Free Shareable Countdown Timer for Presentations and Events
·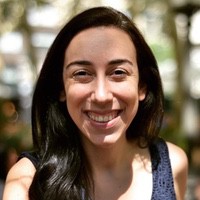 Liz Hermann
A well-planned presentation is bound to be successful. By carefully constructing a timetable and sticking to it, you can ensure that the whole event goes smoothly without any hiccups. This way, no presenter takes more time than they are due to take, so every sub-event and presentation can be engaging and detailed. No more rushing through a presentation because the previous presenter forgot to check the clock.
To keep every presenter on time, you will need a high-quality timer software, and there is no better timer software on the market than Stagetimer. With its tons of features and easy setup, Stagetimer is a great option for any event or presentation. In this brief, we will be telling you all about Stagetimer and how it can be used to enhance your events and presentations to make them more engaging.
Introducing Stagetimer: The Perfect Free Shareable Countdown Timer for Presentations and Events
Stagetimer is a browser-based shareable countdown timer with an emphasis on flexibility in its use. This shareable online timer comes brimming with useful features such as live control, long-term scheduling, and low data usage. With its unique and highly customizable design and looks, you can use Stagetimer for any kind of event or presentation.
Whether the event or presentation you have organized is online or offline, Stagetimer will keep it right on track the whole time. Not only that, but its basic version is completely free.
So you can try it out without having to make any long-term commitments. Additionally, it boasts a pro version with premium features that any content creator or organization can benefit from.
How to Use Stagetimer's Free Shareable Countdown Timer to Enhance Your Event Experience
Organizing an event can be very stressful since everything needs to work seamlessly to ensure a memorable experience. Stagetimer is designed to provide just that. With this multiple countdown timer app, you can create a detailed timetable of the whole event. Then you can follow the timetable diligently with a timer showing exactly when each sub-project for organizing the event is due to be finished.
As a shareable countdown timer, it can be sent to every performer or presenter attending the event beforehand. This way, every presenter will know when they are going to be up in advance with a countdown telling them how long until their turn.
This helps eliminate confusion during the event and provides more clarity to the staff as well. Additionally, with a detailed timetable at hand, you can better organize an event thanks to improved team cohesion.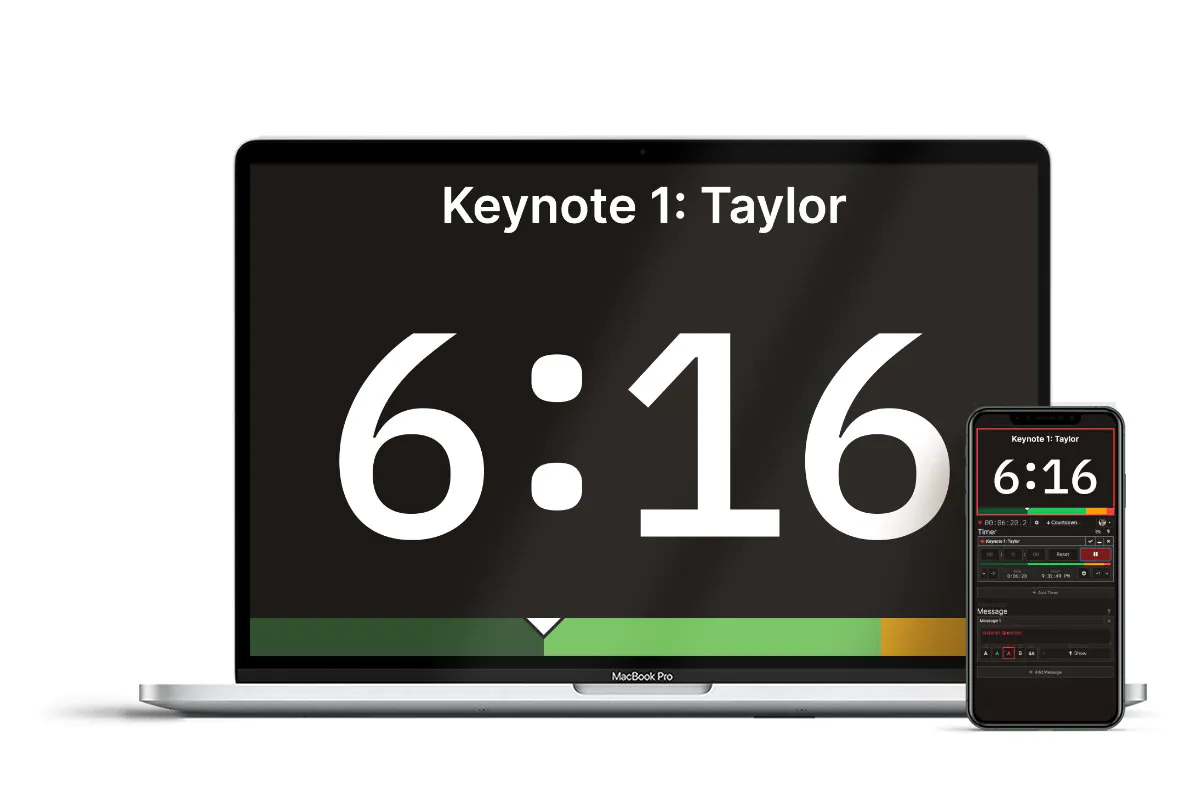 The Top Features of Stagetimer's Free Shareable Countdown Timer and How to Use Them
Stagetimer offers many useful features that make event organization so much easier. These features are:
Shareability
Can you send someone a countdown timer using Stagetimer? The answer is yes, as Stagetimer is a countdown timer that can be shared very easily. You can share it using a unique link or through a QR code as you prefer. This makes it much easier to keep your whole staff and attendants in the loop about the event's timeline.
Additionally, the easy shareability is not just limited to a physical event or presentation either. You can use this timer for online events as well. Not to mention that you can easily manage each and every connected device's timer through the controller page.
The sharing links and QR codes can be found on the controller view. After that, you just need to copy and paste the link and send it to whoever you want. The QR code can be scanned directly from your device as well. You can even send the countdown timer through email to the attendants, which is a great plus.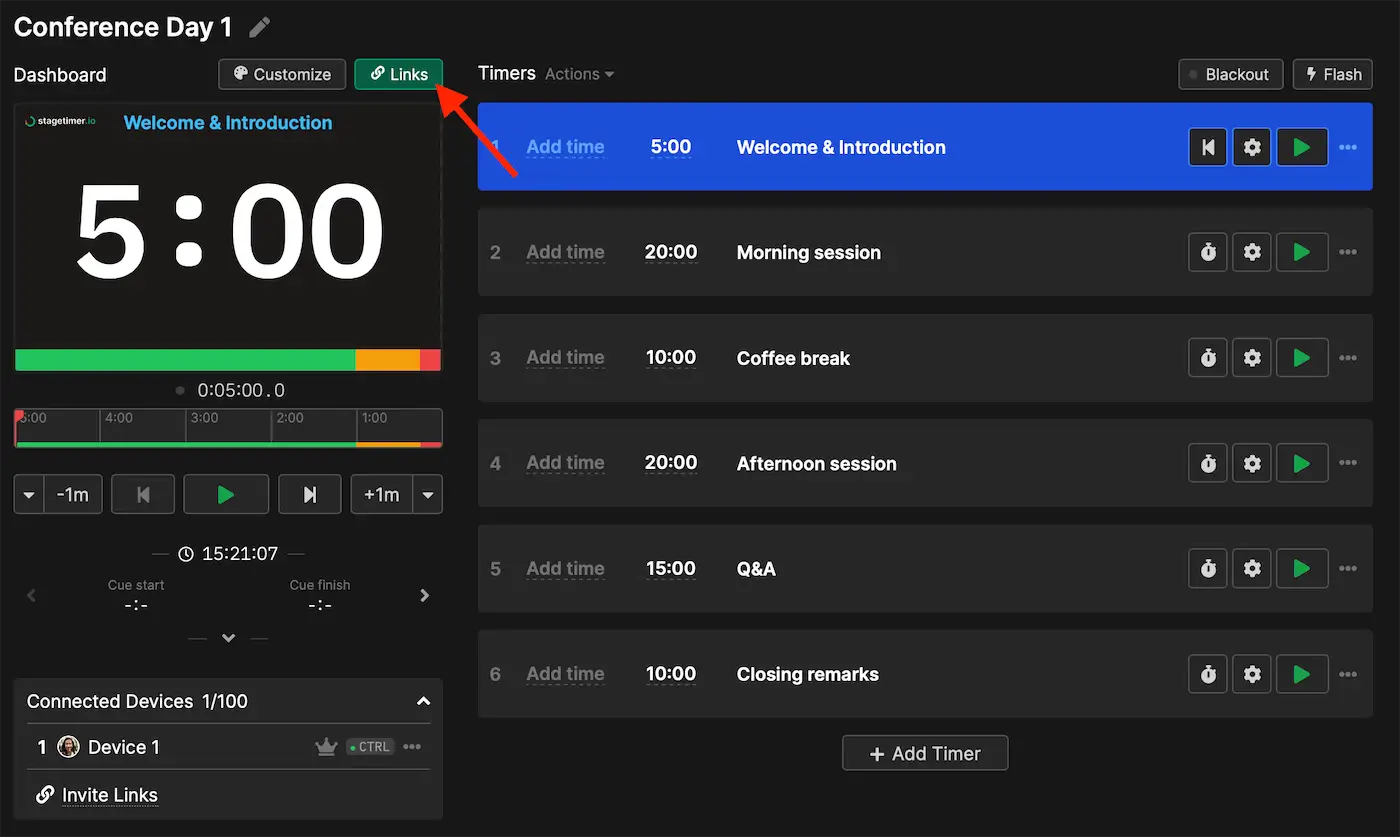 Live Control
Stagetimer allows you to control the timer even as the presentation or event is running. So if you made a mistake or some changes need to be made to the timer due to unexpected events, you can do so in real-time. You can add time or remove time intervals as low as just a second in length from the timer.
You can also live control Stagetimer by using the API. This way, you can create controls for adding or removing a certain amount of time to the timer whenever you want with just a click by using StreamDeck and Companion.
Automatically Start Timers
You can use Stagetimer to schedule timer in advance. You can set the timer to start running at a certain time of your choosing. This way, the timer can be started on an event automatically, even without any supervision. The control page has all the tools you will need to create and customize the countdown timer to your liking.
Simply create a timer and set it to start at a scheduled time. Insert the time you want to start it at and click confirm. Now the timer will start at the appointed time.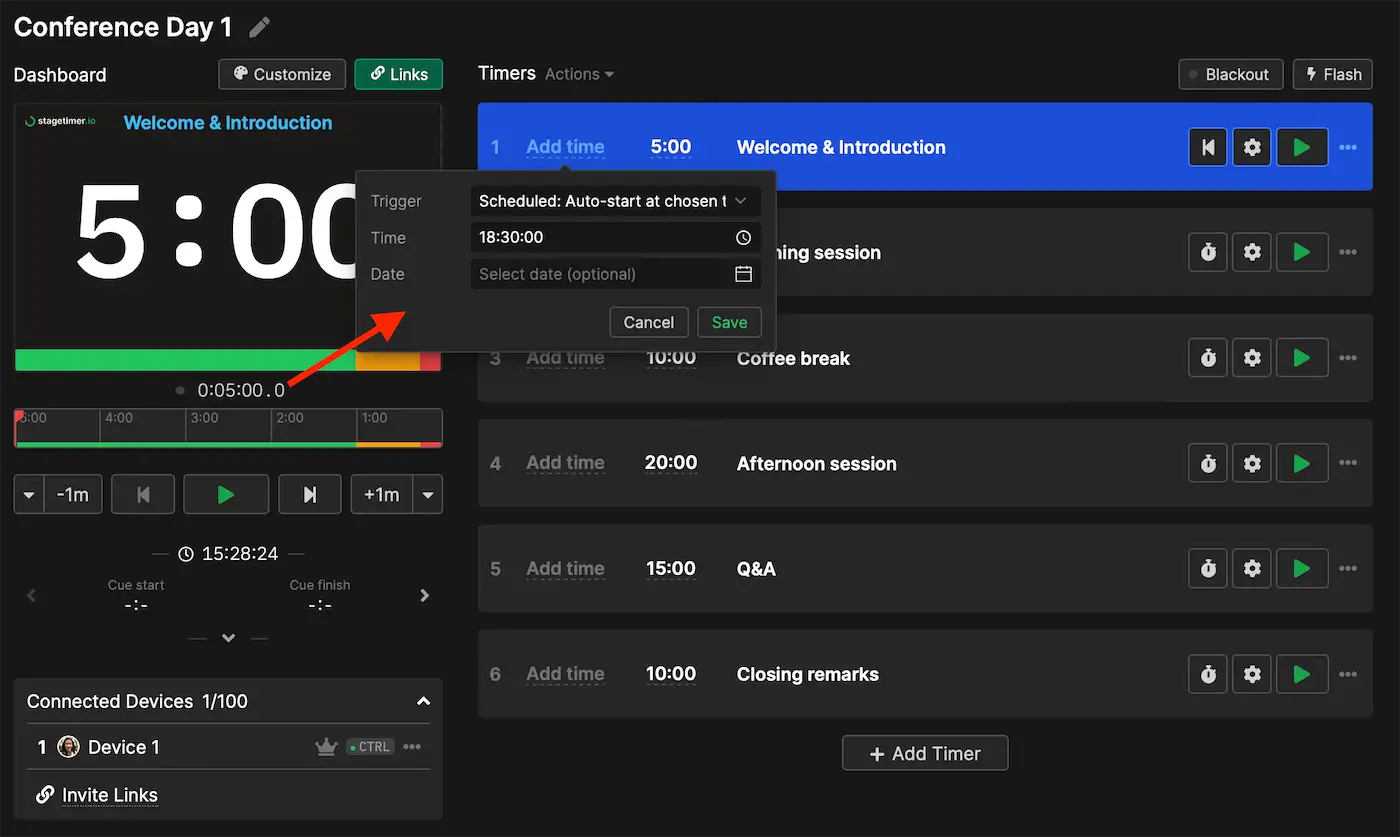 Moderation Control Allocation
With Stagetimer, you can also grant moderation powers to staff members so they can create and send messages to the presenter's screen. This way, multiple people are observing the timer and can make announcements when needed, so there is no room for mistakes.
You can also share notes with the moderators about each part of the event without having to send messages and notes to every connected screen. When generating links for your team, check the Notes box and copy the link. This way, you will get generated links with and without notes in them that you can send to your moderators.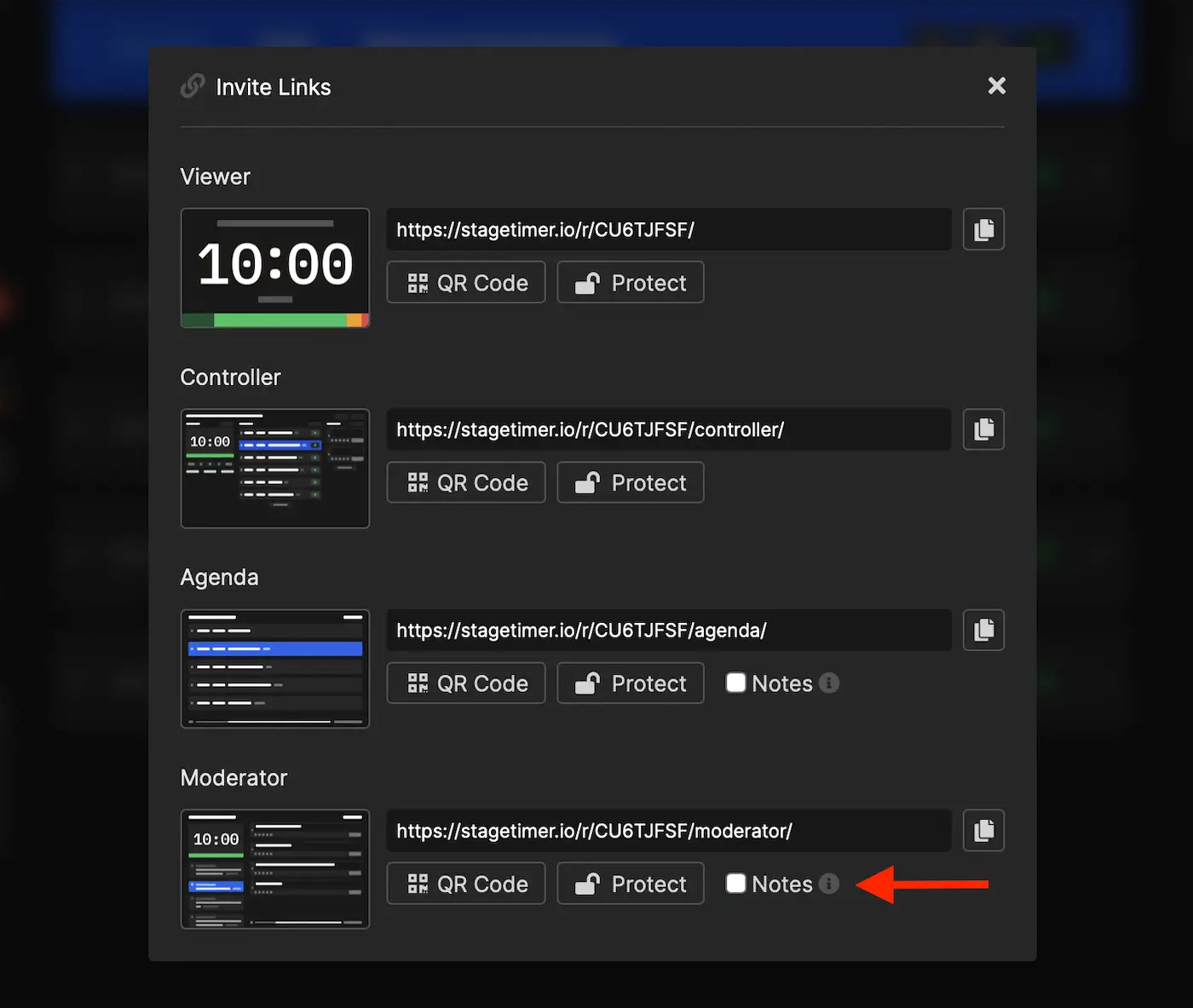 Easy to Customize
Another great feature of Stagetimer is that it can be customized however you want. With a Pro or Premium subscription, you can change the background, font style, colors, and text sizes with just a few clicks. You can also add your own logo to the timer for some easy marketing during the event or presentation.
Examples of How to Use Stagetimer at Your Next Presentation or Event
There are many methods you can use to incorporate Stagetimer at your next presentation or event. You can use Stagetimer to time the presenters and performers. The timer can be shown to the presenters so they can better pace themselves according to the remaining time. Additionally, you can use Stagetimer to set deadlines for things that need to be done during the organization phase of an event.
You can also easily share the countdown timer among staff located in different areas around the world if large-scale coordination is needed to organize the event or presentation. Since Stagetimer automatically adjusts the timers for different time zones, everyone with the timer will be able to better coordinate their actions no matter where they are. Lastly, you can use Stagetimer to sync up different cues and speakers around the venue during an event by sharing it among your staff.
Why Stagetimer is the Best Free Shareable Countdown Timer for Presentations and Events
You may wonder what exactly makes Stagetimer the best countdown timer on the market. To answer this question, here are some of the unique features Stagetimer offers that sets it apart from other timers:
API Capatibility
Stagetimer offers API compatibility. So you can control it remotely using scripts or tools. For instance, you can control your countdown timer using vMix or Companion of Steam Deck. You can even use macros to control the timer, thanks to this feature. This makes it so much easier to integrate your timer into your current systems and remotely control it from anywhere.
Low Resource Requirements
Stagetimer runs in the browser. So it has super low resource requirements. It will even run on a raspberry pi without a hitch. You don't need any expensive equipment when setting up your timers for an event or a presentation. Not only does this save you money, but it also saves time and effort during event organization.
And if you are in a location with restricted access to internet, you can also use the offline version of Stagetimer that runs locally on your device or network.
Low Data Usage
Stagetimer also boasts extremely low data usage. This also saves you money as you don't have to get expensive data plans for running the timer. Stagetimer can recover from connection loss very quickly as well. So if the internet strength is weak or it goes out entirely, the timer will bounce back up as soon as it is back online. Stagetimer can run locally as well with the offline version. One less thing to worry about!
No Ads
Stagetimer prides itself on creating a countdown timer without ads, even on its free version. There won't be ad banners ruining the look of your screen all the time. Nor will the timer be interrupted by an ad pop-up. Without any ads interrupting the presenters, they can focus on the task at hand and give their presentations passionately.
Try Stagetimer for Free
Stagetimer is a very easy-to-use timer software. Its low system requirements and wide compatibility make it a highly useful tool for large-scale and small-scale events and presentations. You can use Stagetimer to increase the collaboration in your team and organize the perfect event.
Its high customizability also lets you personalize the timer however you like. This is without mentioning other useful features such as agenda sharing, wrap-up time chimes and actions, event rundown, and more. All of these features combined make Stagetimer the best countdown timer out there. Create a room for free to try all basic features.