How to Collect Audience Questions during an Event
·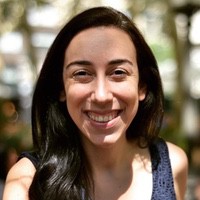 Liz Hermann
Whether you're hosting a conference, webinar, or virtual event, audience questions are a significant part of the experience. Not only do they feed insight into what your audience is interested in discovering, but they also assist in keeping your event interactive and engaging. Here is how you can collect audience questions during an event.
Introducing Stagetimer: The Ultimate Countdown Timer with Audience Question Submission
It can be challenging to keep your presentation on track while ensuring the audience is engaged. Stagetimer helps speakers take charge of their presentation and make sure everyone in the audience is informed and engaged.
Stagetimer is an intuitive countdown timer that helps you stay in control of your presentation. You can customize the look and feel of your timer, as well as set audible alerts when time runs low or when it's time to wrap up. With Stagetimer, you'll never have to worry about running out of time.
Its new update came with a powerful feature that allows your audience to submit questions via a link or QR code. This gives them an easy way to get their questions submitted while keeping their anonymity intact – no need for anyone in the audience to raise their hand! Just ask them to submit their questions through the link, and you'll be able to select some and display them to the presenter on stage.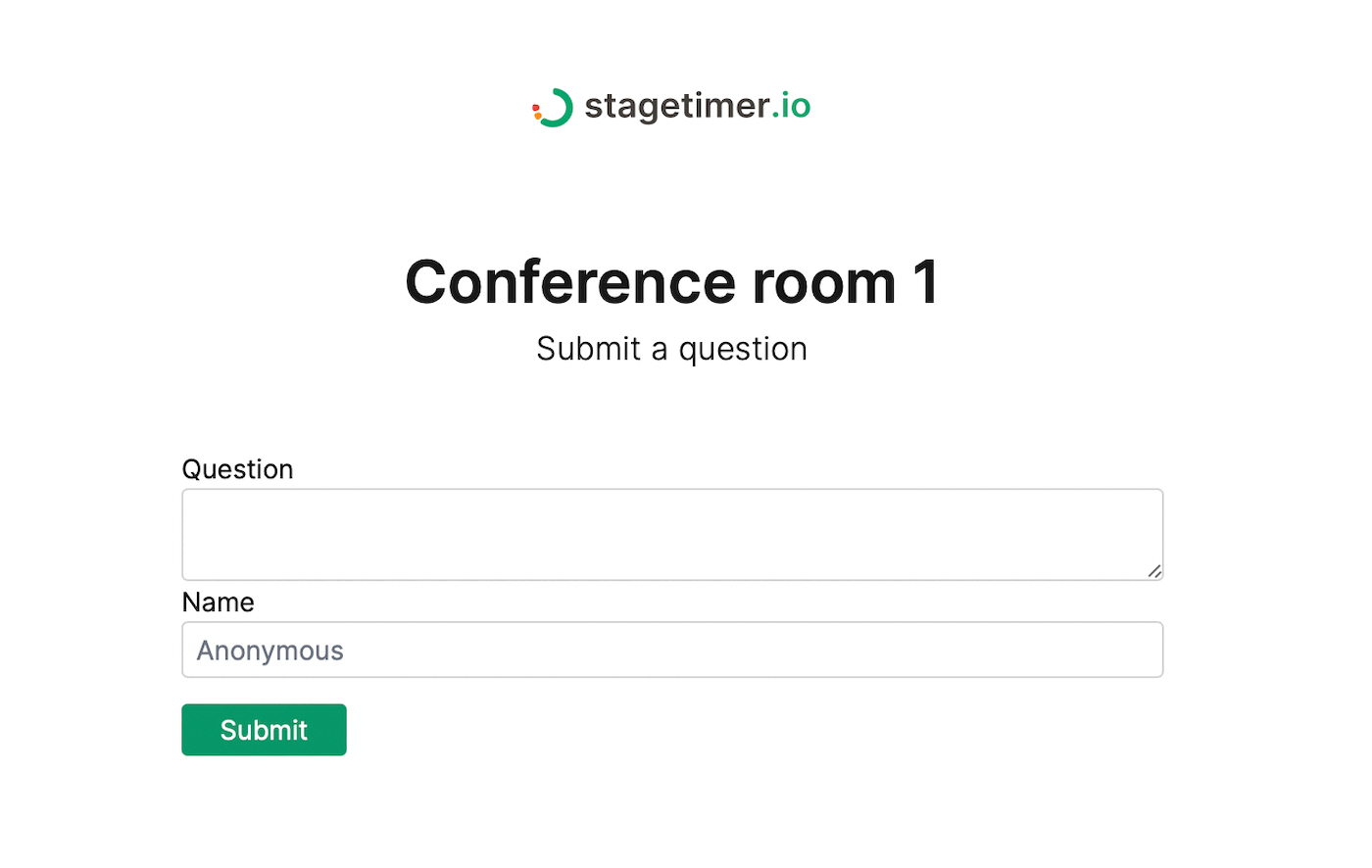 How to Use Stagetimer's Audience Question Submission Feature to Engage Your Audience
Stagetimer's audience question submission feature allows your attendees to submit questions directly through the app. This allows for more open dialogue between you and your audience, as they are able to ask questions without having to raise their hands or interrupt the flow of conversation. In addition, this feature helps keep track of all the questions in one place.
Let's take a look at how this feature can be used to improve your presentation.
Step 01: Generate a Room
The first step to using this feature is setting up your account or generating a room on Stagetimer.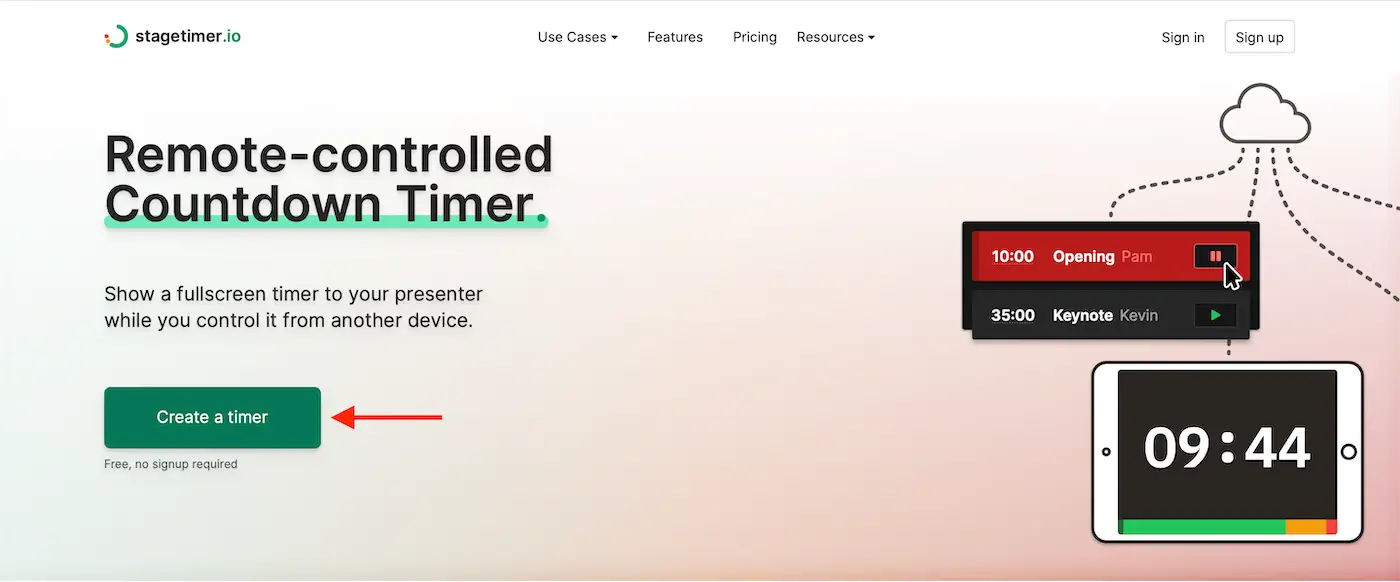 Once you have done that, follow these steps to get started with the audience question submission feature:
Step 02: Click the Submit Questions Link Button
Once in the controller page, click on the Submit Questions Link button on the Message section of the page. A pop up window will display a link and QR code.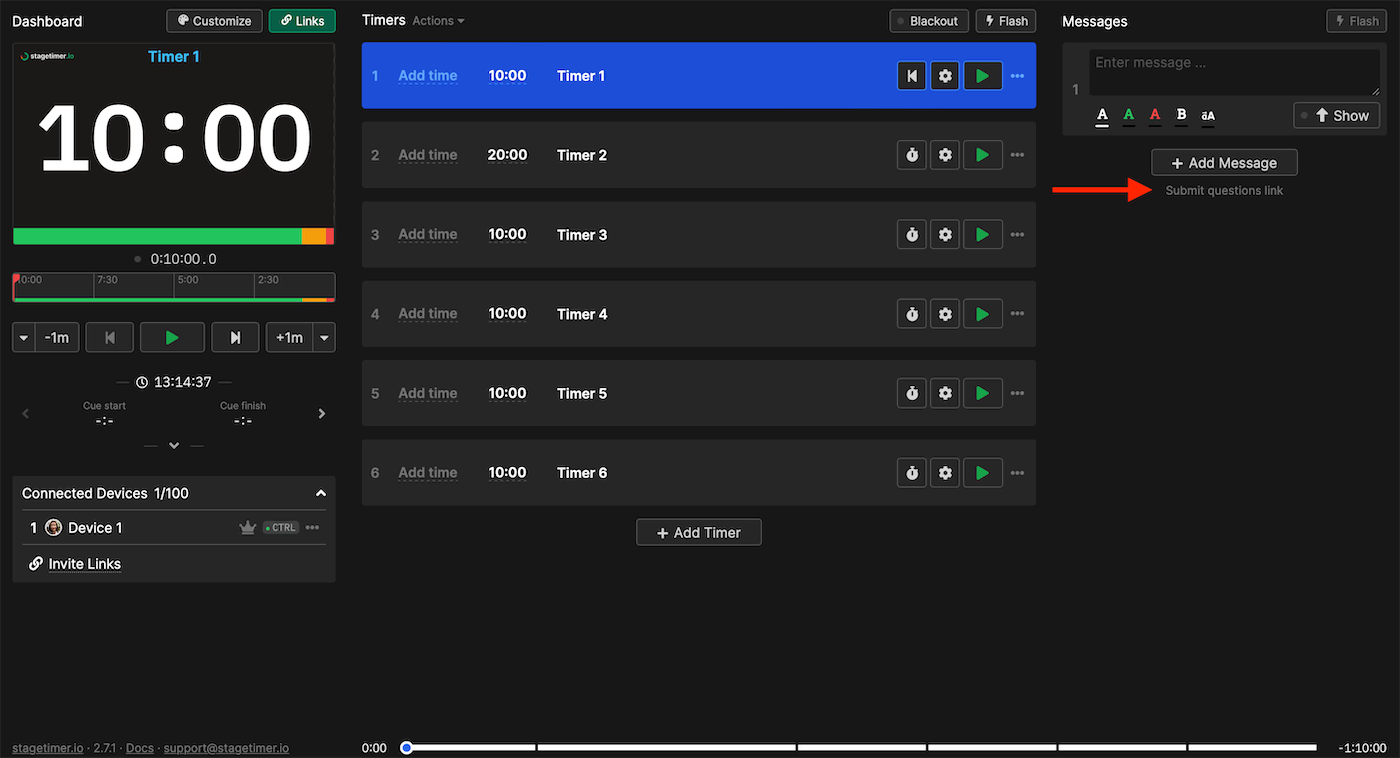 Step 03: Get and Share the Link
You can now share the link or QR code with your audience to let them submit questions directly into the system.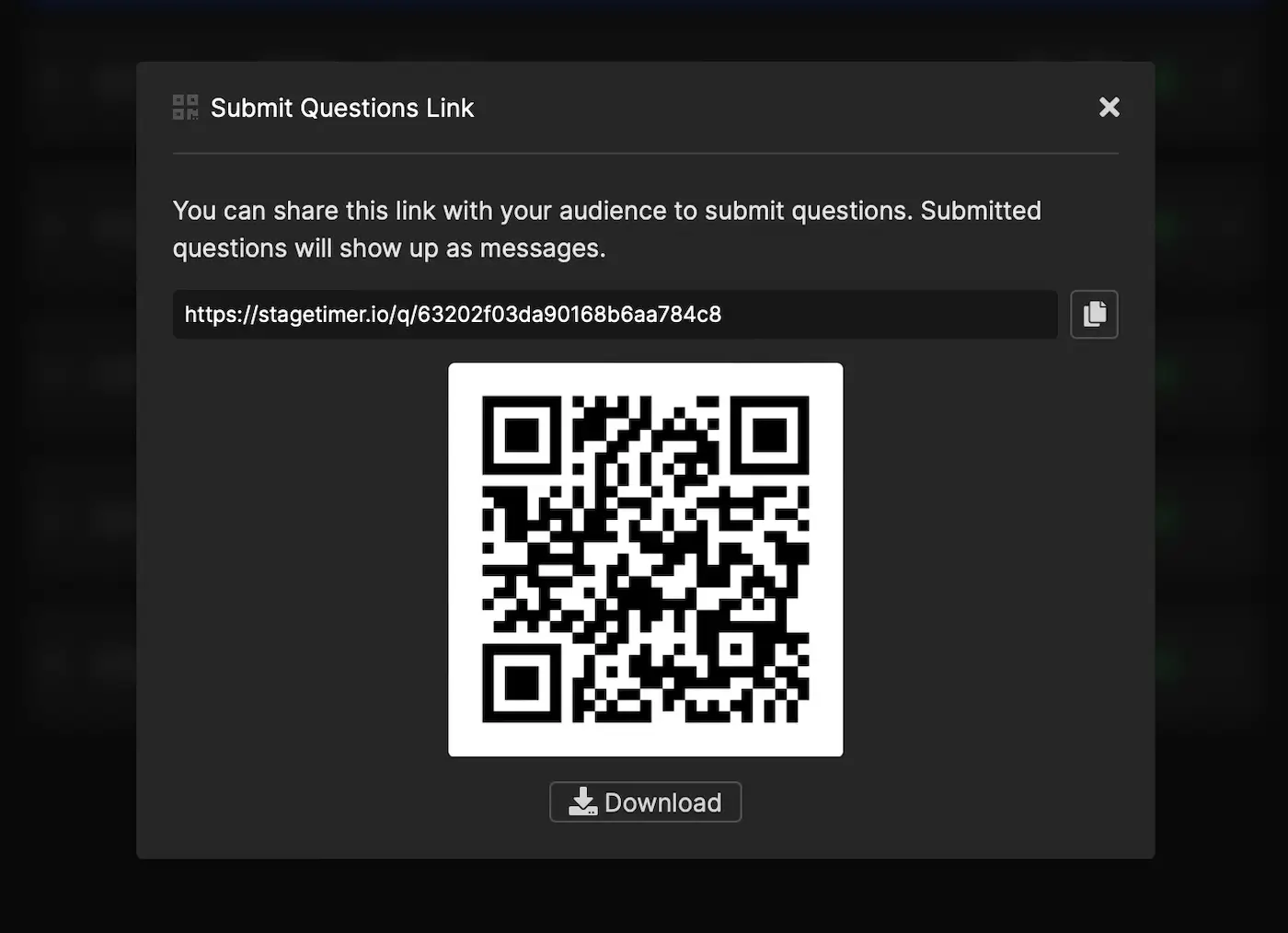 The questions will show up like messages. You can filter them out and choose the ones you want to display on stage or even alter them before doing so.
This page will let users submit a question per page load. And since it is a custom link — your audience can't get through to your viewer or controller timer links.
The Top Benefits of Using Stagetimer's Audience Question Submission Feature
The audience question submission feature allows you to gather queries from your audience and seamlessly integrate them into your timer viewer. Let's explore the top benefits of this feature and what it can do for you.
Engage Your Audience
This feature is designed to help you immerse your audience in a meaningful way. It encourages participants to submit their questions during the presentation, which helps keep them engaged throughout the entire experience. Additionally, it allows them to be part of the conversation and express their thoughts without feeling uncomfortable about speaking up in a big group setting. This creates an open and interactive environment with a sense of connection between the presenter and their audience.
Save Time & Eliminate Unnecessary Questions
By allowing participants to submit their questions ahead of time, you can save yourself time by sifting through any unnecessary questions before they are presented to the larger group. This helps ensure that only relevant questions are displayed during the presentation and keeps things on track. Furthermore, it allows participants to get answers instead of having to wait until after the presentation is over.
Stay Organized & Keep Track of Questions
Stagetimer's audience question submission feature comes with an easy-to-use dashboard that allows presenters to stay organized and keep track of all incoming questions. The dashboard allows presenters to filter through the different entries so that they can quickly identify which questions have been repeated. This helps save time when presenting as well as keeps everyone on task throughout the duration of your presentation or lecture.
Examples of How to Use Stagetimer's Audience Question Submission Feature at Your Live Event
Stagetimer's Audience Question Submission Feature allows attendees to submit their questions anonymously and in real time. Let's explore how this feature can be particularly beneficial in work, church, and educational settings.
Work Settings
When it comes to corporate events, such as conferences and training sessions, engaging attendees is key. Utilizing Stagetimer's audience question submission feature helps create a safe environment that encourages your team members to ask questions they otherwise may have kept private due to feeling intimidated or uncomfortable.
This feature also ensures that all inquiries get answered as quickly as possible without having to wait for a volunteer from the crowd. And with this simple setup, you can keep track of who submitted what question so that you can follow up with them after the event.
Church Settings
Churches are always looking for new ways to engage their congregations and encourage members to participate more fully in service activities. The ability for churchgoers to submit their queries anonymously gives those who may not feel comfortable speaking out loud a voice—allowing them to fully participate in service activities without fear of judgment or criticism.
Additionally, this feature helps pastors and other church leaders keep track of who asked which question so that they can reach out afterward with additional information or resources related to their inquiry.
Educational Settings
Educational settings benefit greatly from using Stagetimer's audience question submission feature as well. Schools often rely on volunteers from the crowd when it comes to asking questions during lectures or presentations. This means there may be some significant inquiries that go unanswered because no one feels comfortable raising their hand or speaking out loud in front of their peers.
This feature helps ensure every student gets the opportunity to ask their questions without fear of judgment or embarrassment. While also providing educators with accurate records of each question that was asked during class — allowing them to follow up afterward if needed.
Why Stagetimer is the Best Countdown Timer with Audience Question Submission
Time is precious, especially when it comes to public speaking events. That's why having the suitable countdown timer is essential for any presenter or facilitator. Stagetimer is an intuitive and effective countdown timer that offers speakers the ability to set limits on their presentations while also enabling audience members to quickly and easily submit questions during the event. Let's explore why Stagetimer is the best solution for any presentation needs.
Timer Features
Stagetimer has all the features you need from a reliable countdown timer. You can set time frames for each stage of your presentation in advance, so you can keep track of time without having to worry about manually monitoring it. The timer will also alert you when you are approaching your allotted time limit so that you don't overrun.
Furthermore, Stagetimer has a "pause" feature that allows you to easily pause the timer if needed and then restart it again from where it was paused. This ensures that you stay on track with regards to timing during your presentation without having to worry about restarting the clock every time something unexpected happens.
Audience Engagement
Stagetimer not only helps speakers keep track of their timing but also enables them to engage with their audience more effectively by allowing them to submit questions directly through the platform during the event.
Additionally, Stagetimer has built-in moderation tools which enable moderators/presenters to display or edit questions before they appear on the screen. Giving them greater control over how they choose to engage with their audience during the event.
Try Stagetimer for free
Ultimately, Stagetimer is an invaluable tool for any presenter looking for ways to optimize their timing and increase audience engagement during events and presentations. With its intuitive interface, built-in moderation tools, and the ability for audiences to quickly submit questions directly through the platform — Stagetimer has everything you need from a reliable countdown timer with question submission capabilities. Making it truly one of a kind! So if you're looking for an easy way to manage your timing while still engaging with your audience — look no further than Stagetimer! Create a room for free to try all basic features.