Run of Show Template & Best Practices for On/Offline Events
·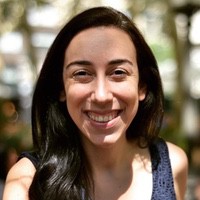 Liz Hermann
A run of show is an essential piece of planning for any successful event: whether that's a virtual event or an in-person "offline" event. A run of show, also known as a cue sheet, refers to a document that provides a cue-by-cue sequence of what will be going on during a show.
In this article, we'll discuss what a run of show looks like, explain why you should use one, give you the best run of show template for hosting a successful online event, and discuss how you can use stagetimer.io to systemize your agenda.
Why Do You Need A Run Of Show?
Any event requires a large level of planning and coordination between many different people and teams. It can be extremely difficult to manage all the moving parts of an event – how do those in charge of lighting rigs know when to put on a spotlight? When should a video be played? When should an announcer – or a "voice of god" – introduce the next speaker?
Sure, you could just have a running order or an agenda. But, a run of show helps everyone involved in a show understand what every team and area of production is doing at any given point in the event. A run of show document provides a sequence of what's planned in an event and includes every job, consideration and cue needed to effectively pull off the show.
What Does a Run Of Show Look Like?
A run of show is traditionally built in a spreadsheet application like Microsoft Excel or Google Sheet. It presents its information in a neat table, with each row representing an event, action or cue in the running order.
Here's an example of a run of show in action. This is the Gala Awards' run of show, mostly geared towards visuals, sounds and lighting: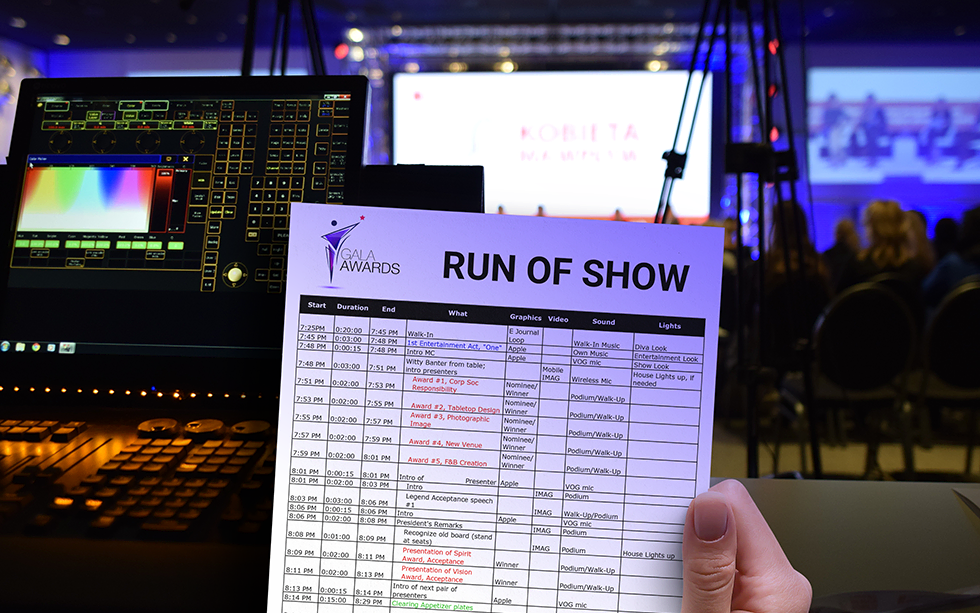 The exact structure and content of your run of show will depend largely on the type of event you're holding, and who you're making the run of show for.
For a large, complex event, it's not uncommon for event producers to create several run of show documents tailored to each area of production most likely to collaborate during the show.
It's intuitive really: why would the sound crew need to worry about what costume or makeup is doing? But they'll absolutely need to know their cue, especially if it coincides with a lighting change or PA announcement.
Run of Show Template
Whilst it's entirely possible to make your own run of show from scratch, most event producers prefer to use a pre-made template.
As run of show documents are tables in a spreadsheet, it's easy to customize the headers to suit the categories needed for your event.
Now, the issue here is: where do you find a suitable template? While there are hundreds of options available online, it can be difficult to find one that fits the quality and adaptability requirements for your show.
That's why we've created a run of show template for you to use on your next event: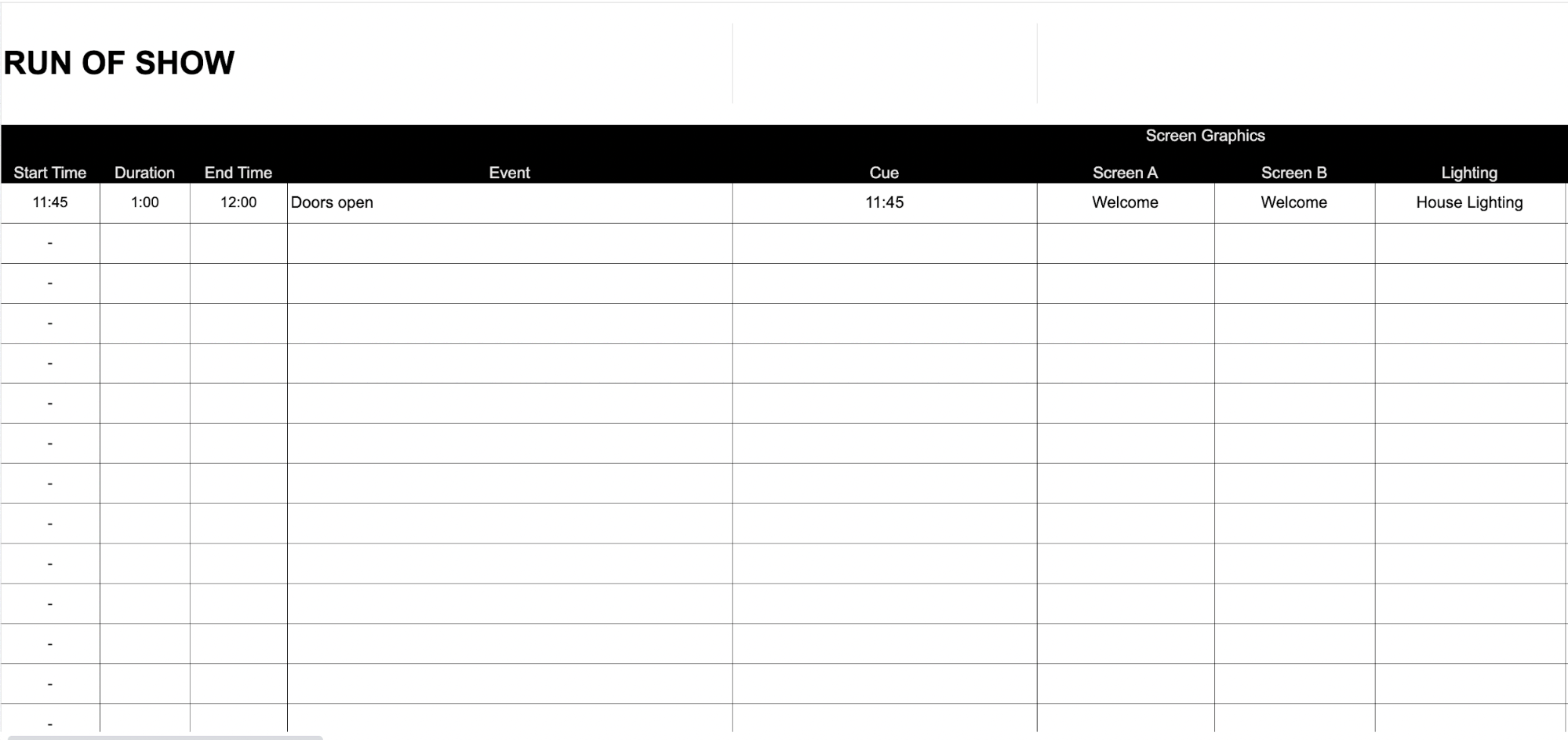 Want to check it out? Simply click the link below and make your own copy of the Sheets file to be able to edit it to better suit your needs.
👉 View or download the free run of show template
This template is mainly geared to the technical crew of a physical live event. That's why we've opted for screen graphics, lighting and sound as our headers for the template.
Need to add any more headers or change them? Feel free to add more columns to the spreadsheet or change the existing headers.
Don't Miss Your Cue!
The secret to building a successful and helpful run of show is smartly selecting the cue for each action. In the example row, we've picked an exact time. This works well for a time-specific event.
It needs to be easily recognizable and distinct enough for it to not be confused with another cue. A popular type of cue is a line spoken by one of your speakers or announcers:

Why can't we have absolute time (static) cues? While shows hope to keep as close as they can to their running time, sometimes speakers overrun or underrun. This isn't an issue in terms of a whole show, but for timing actions like lighting changes and sound, being even 10 seconds off can ruin the accuracy of those cues.
That's why we have dynamic cues – i.e., pointers that are independent of the clock. It would be far smoother if speakers tried their best to keep on time, and actions are executed on lines spoken instead to give any leeway even when the timing isn't exactly perfect.
Do You Need A Run Of Show For Virtual Events?
A common misconception is that virtual events require less planning and less coordination than in-person "real" events. However, in reality, this couldn't be further from the truth.
In fact, online events like Zoom conferences or virtual summits need to be sleeker and better-planned as you can't rely on a lavish venue or catering to keep your guests entertained. If you host a badly planned event, your attendees can just log off with a click of a button.
An online event will therefore also need a run of show. It's far harder to hide bad planning when the event is virtual, and so every member of production staff needs to be on the ball and know exactly what they need to do.
Production managers won't be able to see their staff virtually, so a run of show is a brilliant management tool to ensure every team member has been assigned a meaningful task.
How Do You Keep Speakers And Production Staff On Time?
While a show can absorb being a few seconds or even half-a-minute overrun or underrun, anything more than that can be catastrophic. Timing is one of the most important yet difficult aspects of event production.
That's why it's important to use a stagetimer.io. A stage timer is a timing application that's tailormade to provide speakers and event producers with an accurate and shareable stage clock.
Traditional stage timers, however, are expensive to implement – as it often requires running display feeds around an event hall to everyone that needs to know the stage timer. Luckily, there's a better way.
Let's turn to the cloud to sort out this pressing issue. Introducing stagetimer.io, a cloud-based web stage timer that's perfect for keeping speakers on time and relaying messages from event producers to the stage floor.
How It Works
Stagetimer works in the cloud to provide a timer that can be shared with speakers and production staff using a shareable link. As long as you're connected to the internet, the stage timer will be the same on any device you connect to it.
Having a set agenda is a brilliant way to keep both speakers organized and attendees excited for your program. It's easy to insert your agenda into stagetimer.io by uploading your CSV file directly on the controller page. And it also allows you to share an "Agenda view" for event producers via link or QR code.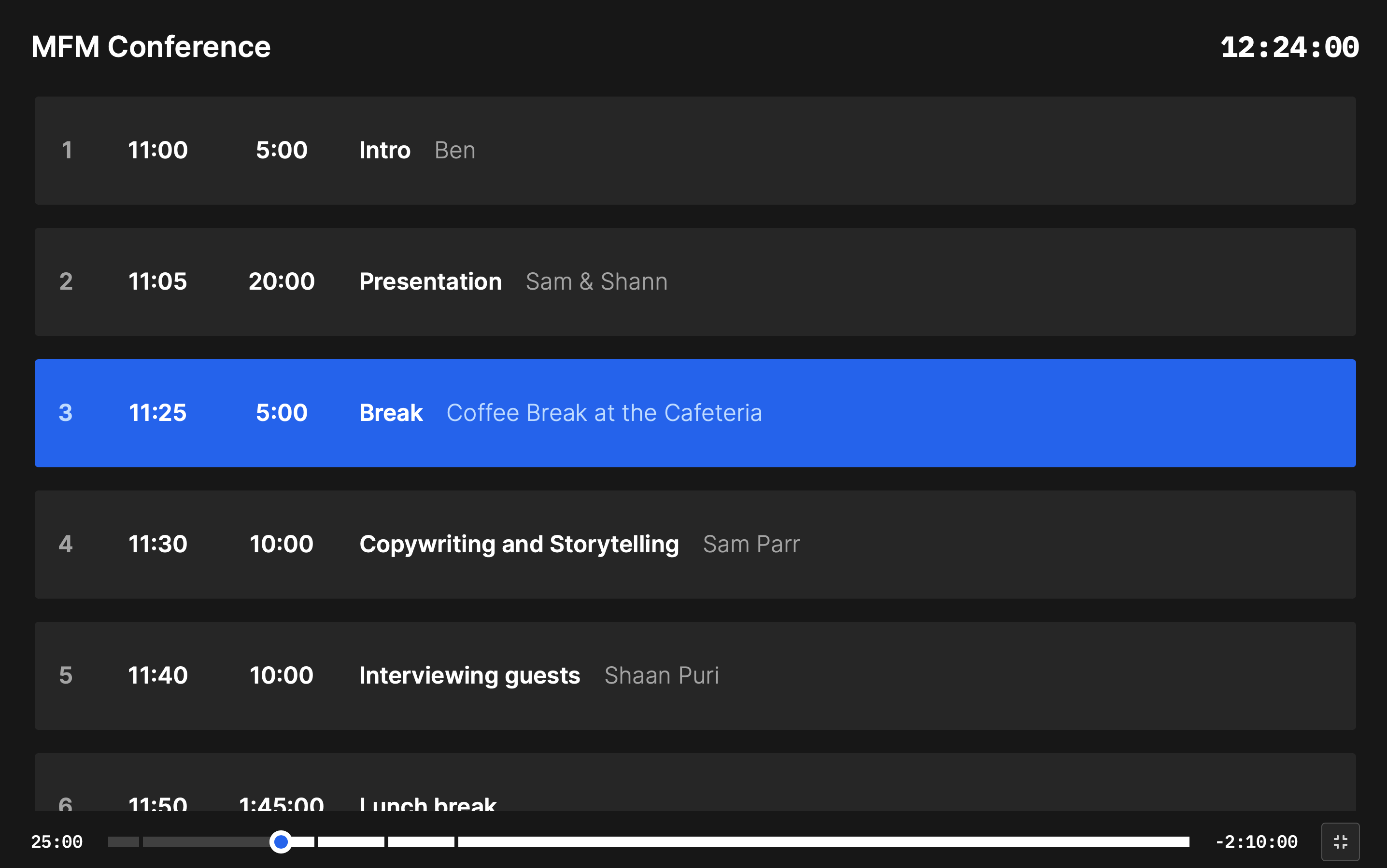 Sharing information is not restricted to sharing the agenda with others. Need to send a message to your speaker? Simply write it in the message tab and display it to any user connected through the viewer link.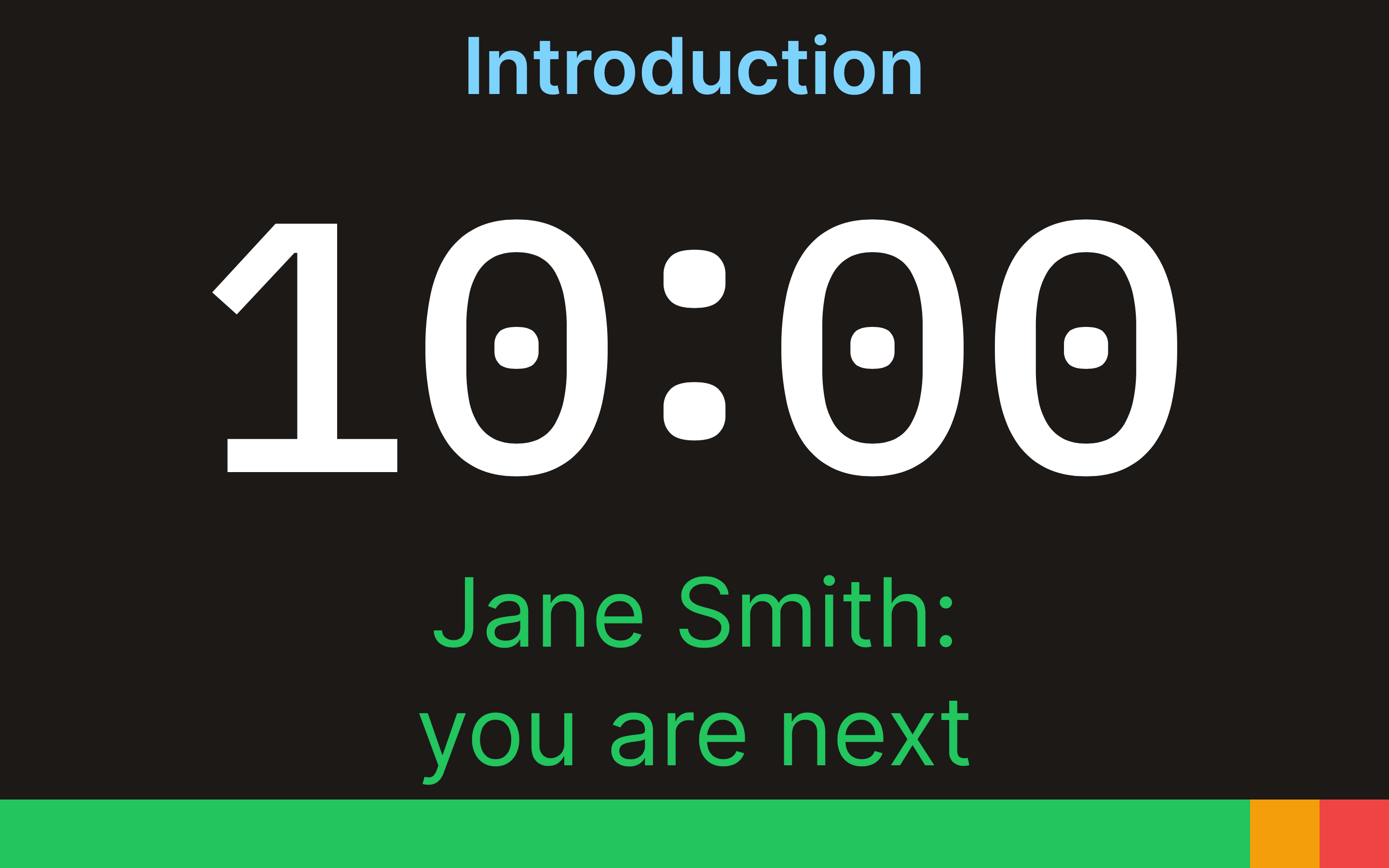 How much does this handy tool cost? The answer is really not a lot!
Stagetimer is free to get started, giving event producers up to three timers, three concurrent users and three messages. Event organizers can pay for a 10-day event licence for a flat price, or opt for a Pro subscription.
Practice makes perfect
Any event, whether that's online or in-person, will benefit greatly from preparation. One of the best ways to prepare your speakers and production staff is to run through your show before the big day.
With a run of show, this is easy. If you're doing a technical run-through, often stage managers will rehearse lighting and sound cues. This boosts the need for a detailed technical run of show.
At least one full rehearsal does wonders for speakers – especially those who are nervous about their sections. This is a perfect opportunity to see whether or not their speeches/workshops are on track to meet your event's time requirements.
Using and getting your talent familiar with stagetimer.io before event day is a great way to increase your chances of a smooth, successful show.
Get started with stagetimer.io
A detailed run of show is crucial to a successful show – whether that's an online event or an in-person show. Pairing this with an accurate stage timer that you can easily circulate to your speakers and production staff is vital to keeping your show on track and on time.
You can get started with stagetimer.io today and set up your agenda. The software can help you digitize and share your run of show with the agenda link. Simply enter all the actions on your run of show or import your spreadsheet to the controller page with one click, and production staff will be able to see a dynamic agenda of what's going on in their show.
Not sure whether Stagetimer is the right tool for you? Try it for free at stagetimer.io.