Virtual Event Production Guide & Tools To Use
·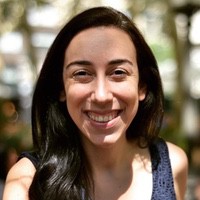 Liz Hermann
The coronavirus pandemic has shown event planners that virtual, online events can be just as effective as in-person events. As the world returns to normal post-pandemic, we are now seeing virtual events become the new default way of conducting conferences, summits and meetings.
It has therefore never been more important to consider the tools used for virtual event production, tighten up on technique and learn how to put on engaging virtual events.
At stagetimer.io, we'll explore why you should invest in the latest virtual event production tools – alongside giving you some valuable tips on holding your next virtual event.
Why should you go virtual?
There are plenty of reasons for virtual events to continue to be popular, despite the end of the pandemic and the mandates like social distancing and travel bans that made virtual events necessary.
The main reason why event planners are still holding events online is inclusivity and accessing a wider audience.
Attendees no longer need to book, travel and spend money to attend your event. Businesses across the world are realizing that there's very little to gain for funding a trip to a faraway conference and that a few hours on a computer can provide just as much value.
It is for this reason that physical corporate event attendances haven't recovered as much as some would have predicted. People can be just as far more willing to attend an event if it were remote.
Another main reason for going remote is to save lots of money and energy. Without the need to hire a venue, pay for security staff, provide catering and more,virtual events can get your speakers in front of attendees for a few hundred dollars, not tens of thousands.
What type of events are suited for virtual?
Pretty much any event where you're hosting a panel of speakers can be held virtually.
This includes, but is not limited to:
Trade shows, exhibitions, or pitch events
Seminars or workshop events
Conferences or company conventions
Recruiting events or open days
In fact, virtual events can open the door to experiences that were never possible before.
For example, you can have speakers from every corner of the globe, allowing voices from all over the world to be heard at your event.
What tools do I need to organize a virtual event?
To run an effective and engaging virtual event, you'll need to consider the tools you use. In this article, we'll discuss some recommendations for the following tools:
Virtual event platform
Timer Application
Engagement Tools
Livestreaming or Video Sharing
Virtual Event Platform: Zoom
Without a platform to host your event on, how can there be a virtual event in the first place?
To decide which platform to use, consider:
How many people do you plan on attending?
Will you be releasing a recording of your event afterwards?
How much engagement and involvement are you looking for from your attendees?
Would you like your attendees to be able to talk to your speakers through video chat?
The most popular virtual event platform is Zoom. Through their live events package, it's easy to create live events and invite both speakers and attendees to event rooms.
Zoom Events allows event organizers to create virtual event floors, allowing attendees to browse what's on and join talks when they go live.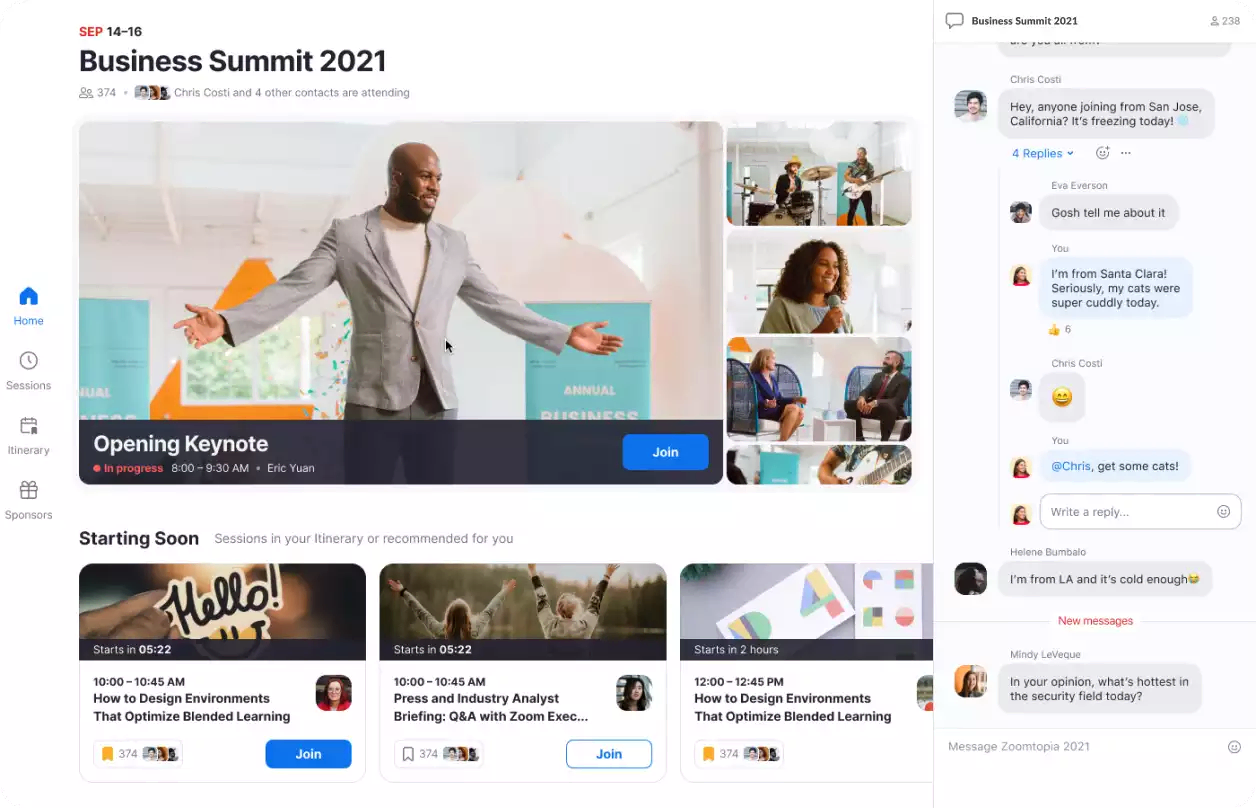 Zoom is one of the most recognisable and widely-used video conferencing applications and so a large majority of your attendees will already be familiar with the platform.
This platform allows you to host moderated Q&A sessions, alongside in-session chat to engage with your attendees. Zoom even allows you to handle ticketing straight through the platform.
You can schedule your events to be either single-session or multi-session, allowing you to mimic the "convention" feel of in-person conferences. Zoom will automatically record every talk, and if needed, publish recordings instantly for attendees to watch after the event.
Do you want certain talks to be paid events? No worries, you set exclusive ticketing options and collect payment using Zoom.
Other options for a Virtual Event Platform include:
Microsoft Teams, as part of the Microsoft 365 software suite.
GoToWebinar, the live events release of the popular video conferencing application GoToMeeting.
Pricing
Zoom has a pricing model based on the number of attendees for its events and conference packages, starting at 500 attendees. If you're regularly hosting webinars, a Zoom Webinar subscription may be perfect for you. This starts at $690 a year.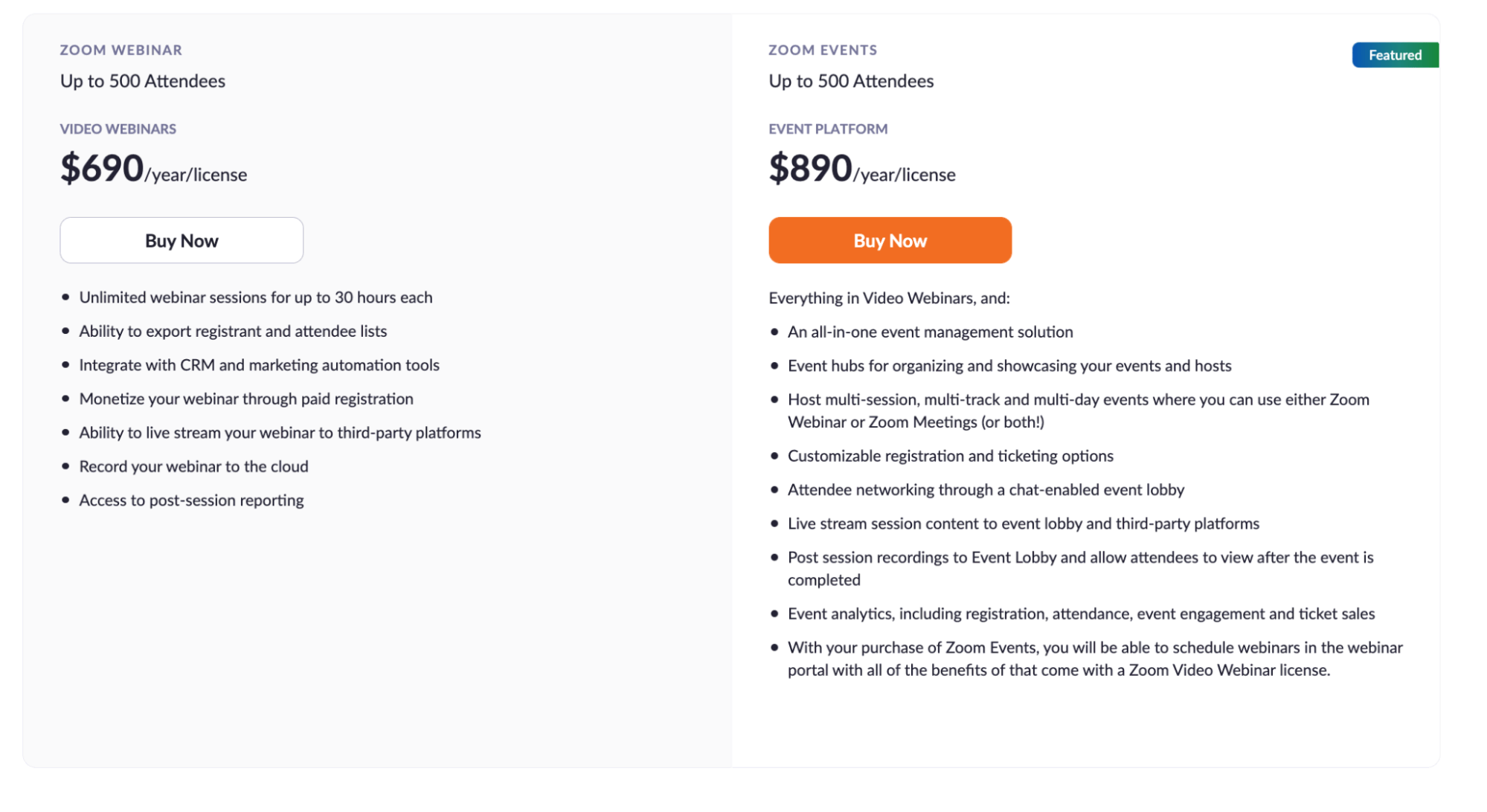 Need to host a large-scale event like a conference and have analytics available at your disposal? You'll need to opt for the Zoom Events package. This costs $890 per year per licence.
While this may seem excessive at first - factor in the cost savings of venues, video conference management and all the other advantages of choosing a virtual event.
Of course, if you only organize short events once in a while, Zoom is free for meetings that include up to 100 participants lasting less than 40 minutes.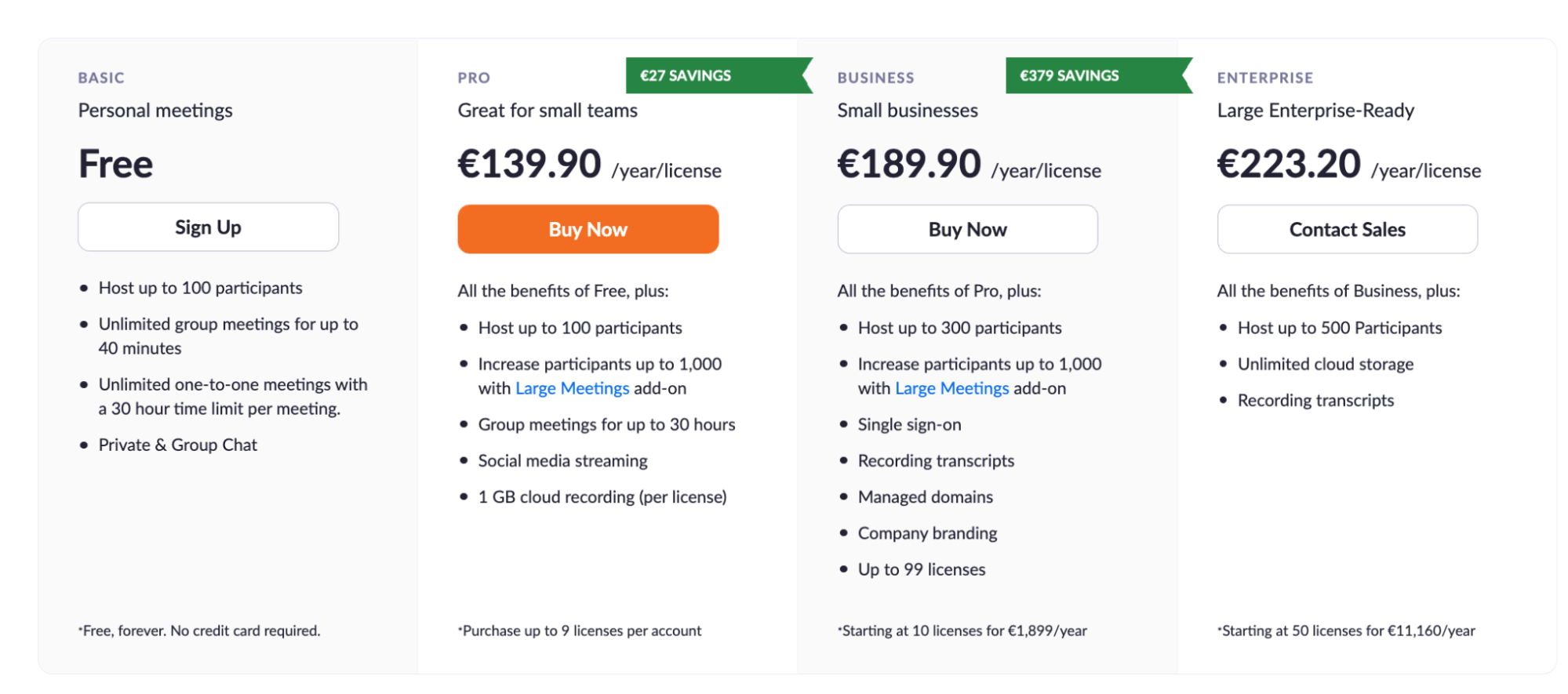 Timer Application: stagetimer.io
Punctuality is key to organizing an event that doesn't run over and covers all the information/speakers it needs to. It can, however, be difficult to keep all of your speakers to the agenda clock without the help of a Timer tool.
Need something lite and easy to use? stagetimer.io is a brilliant speaker timer that's stored in the cloud, making it perfect for virtual events. No more syncing stopwatches or looking at clocks. At the same time, this tool is a great alternative to more expensive tools, if you're  looking for a reliable tool to time your events and provide quick rundowns.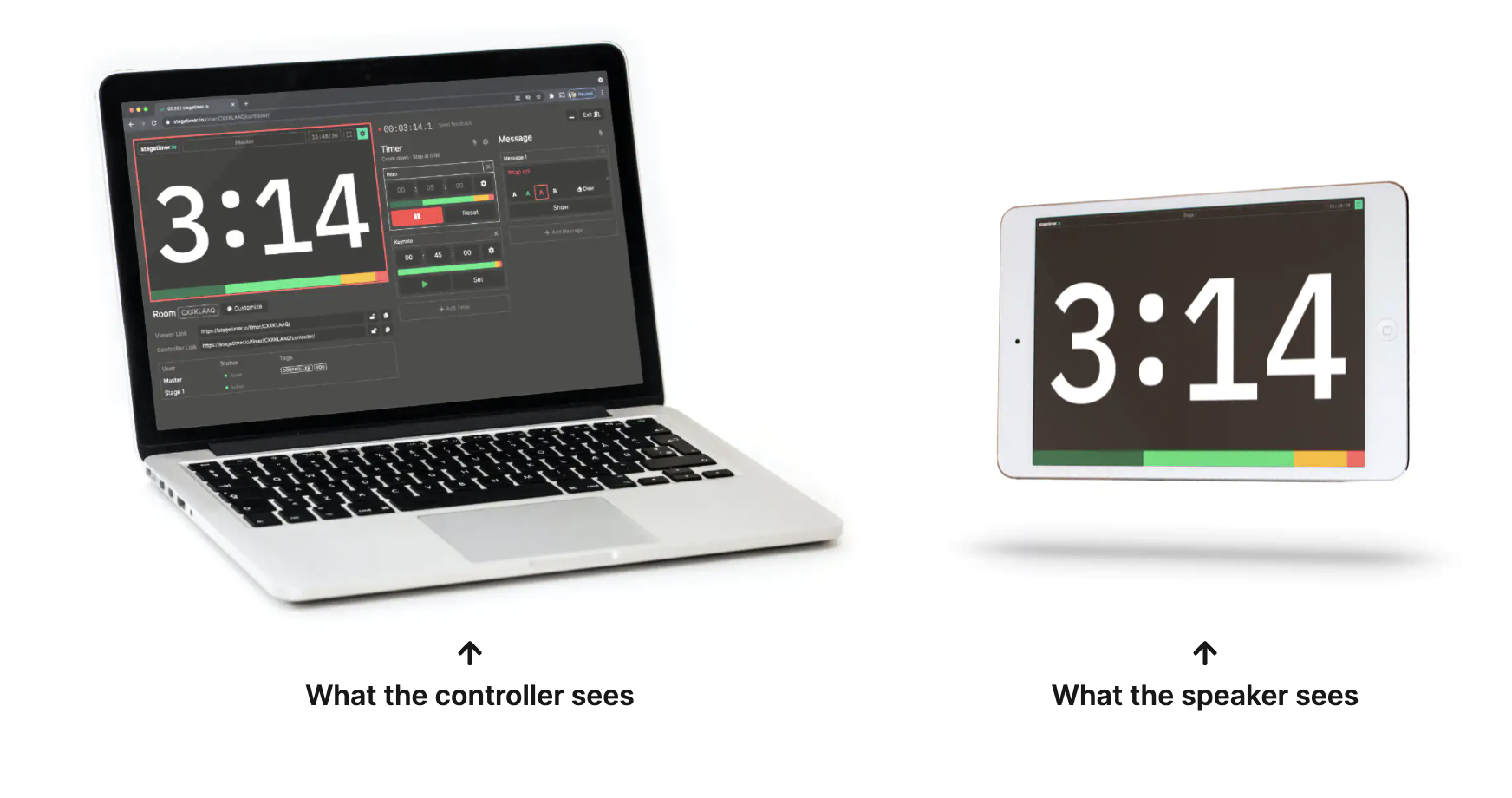 A timer app like stagetimer.io allows virtual event producers to keep speakers on a timed agenda, alongside displaying messages to them if needed. Timers are web-based and don't require downloads. Speakers can connect on a separate device using a shareable link.
Having a set agenda is an excellent way to keep both speakers organized and attendees excited for your program.
It's easy to import your agenda into stagetimer.io, and it also offers an "Agenda view" for event producers and staff.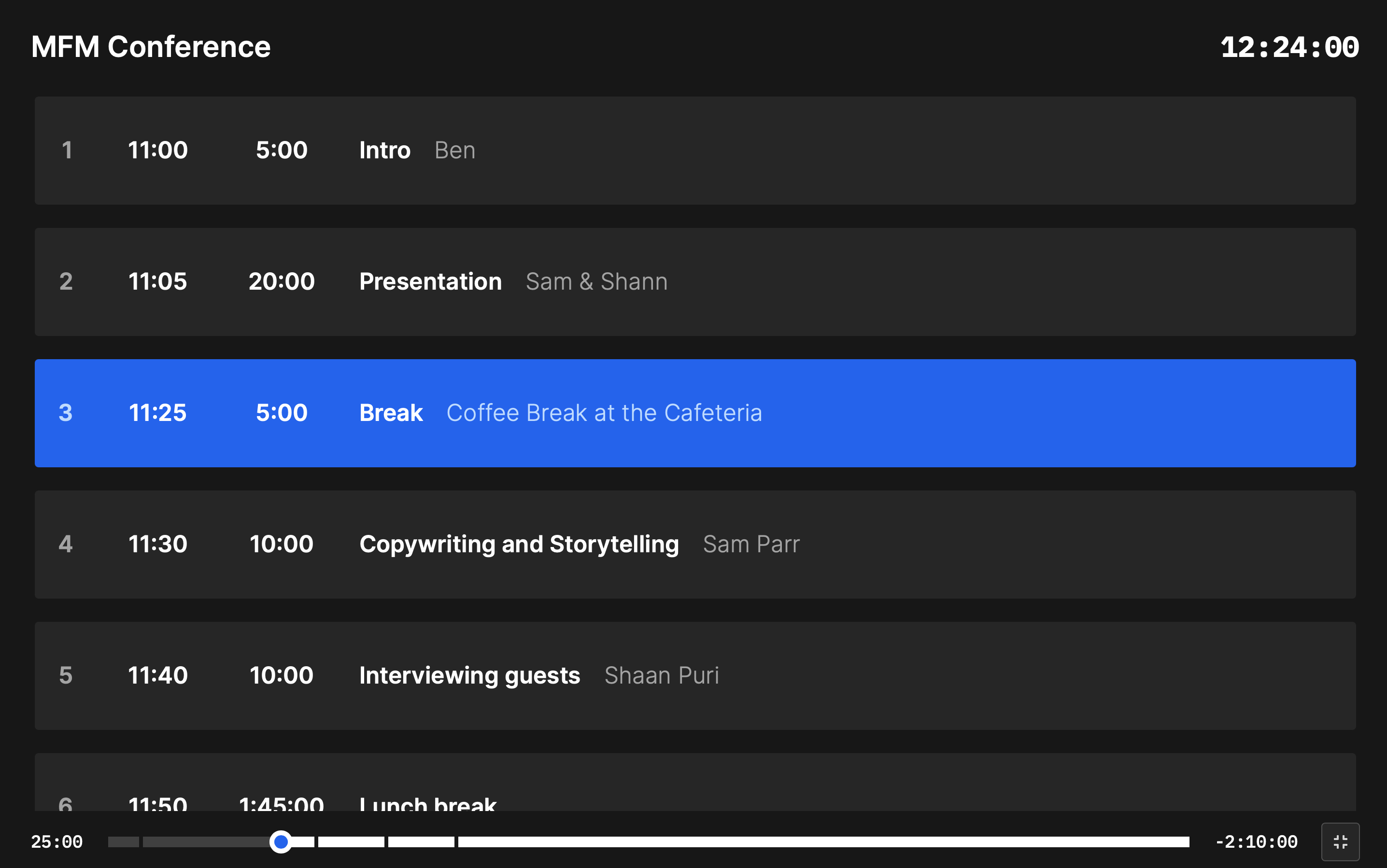 Stagetimer also allows producers to communicate easily with stage personnel. Need to send a message to your speaker? Simply write it in the message tab and display it to any user connected through Speaker View.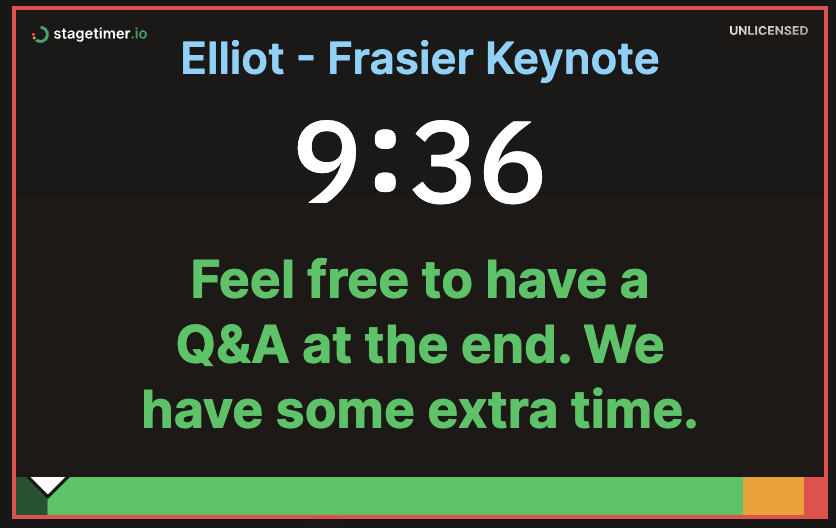 Pricing
stagetimer.io is free to get started, giving event producers up to three timers, three concurrent users and three messages. Event organizers can pay for a 10-day event licence for a flat price, or opt for a Pro subscription.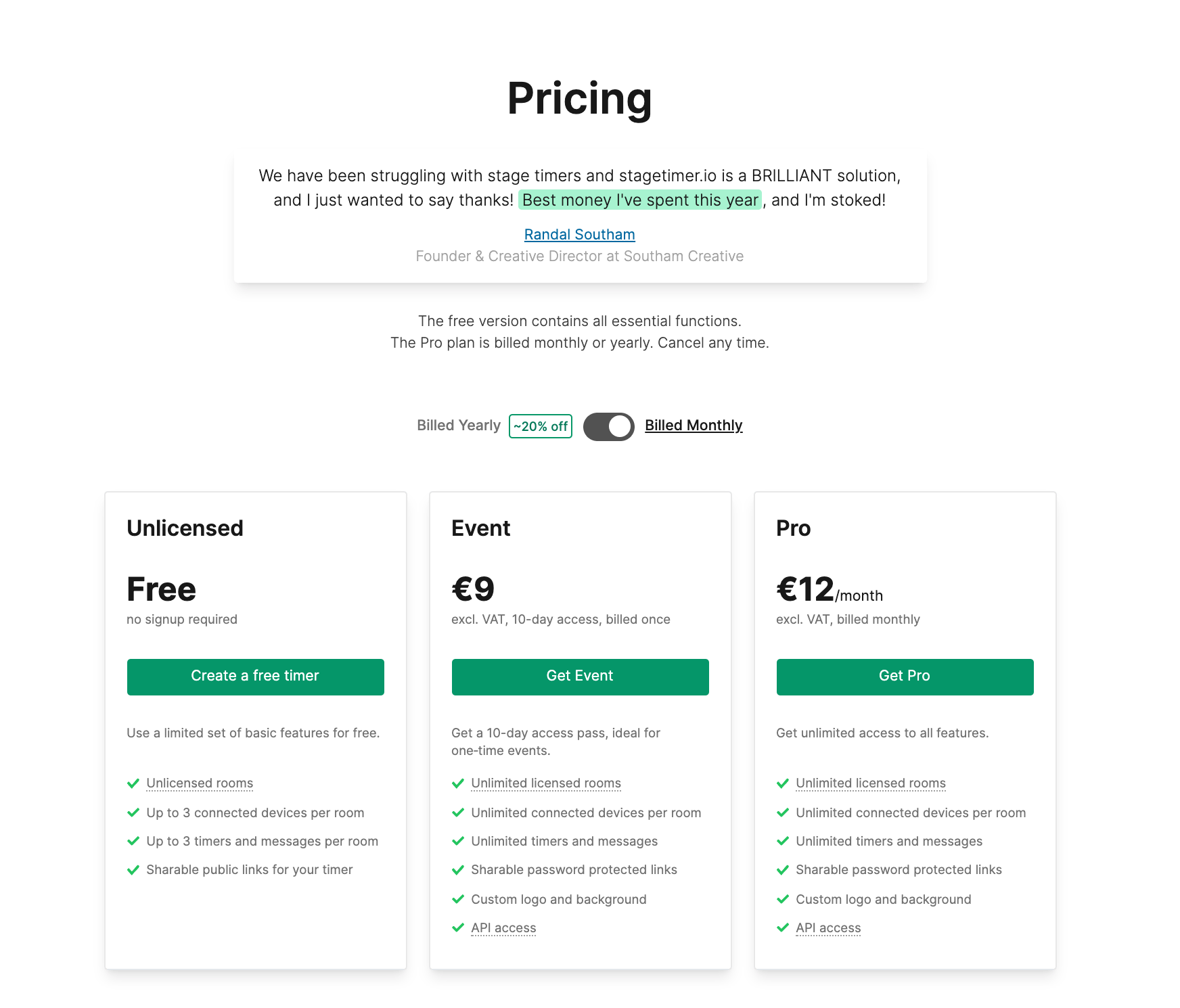 stagetimer.io is significantly cheaper than other options available in the stage timer market sector, being also one of the only cloud-based providers.
Engagement Tools
One of the most important qualities of live events that are lost by going virtual is viewer engagement. Research from Wild Apricot suggests that events that don't try to actively engage their attendees are 150% more likely to have an unsuccessful event.
Many live event platforms have in-built engagement tools. As previously mentioned, Zoom allows attendees to participate in a moderated Q&A through text chat.
To go one step further, virtual event organizers should consider a dedicated engagement tool like sli.do. Alongside live Q&As, sli.do facilitates fun live quizzes, polls and even video interaction.
To show off what this tool has to offer, let's explore the Quiz feature.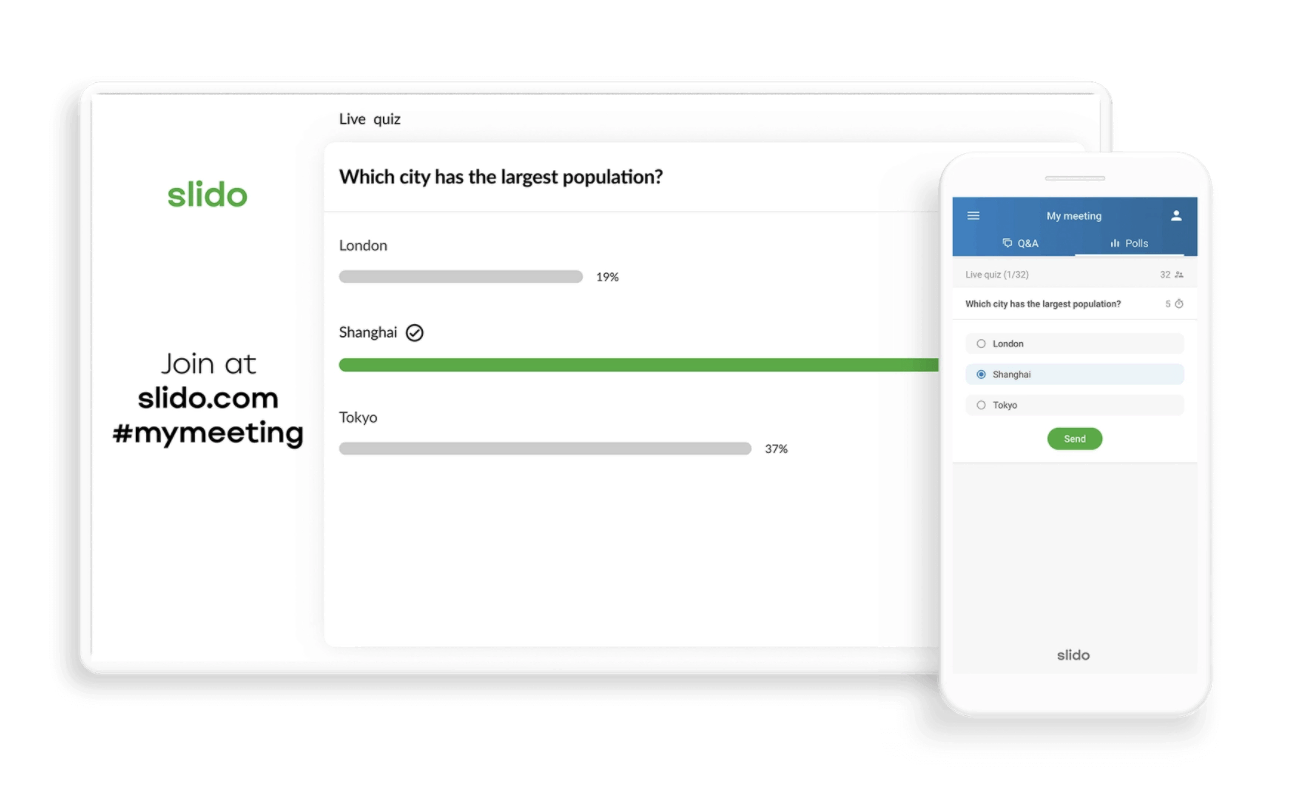 To get started, simply display the live quiz page through your virtual event environment and attendees can join on their devices. They can join in on an interactive virtual quiz, ask questions and participate in polls.
This seemingly simple level of engagement and interaction can go a long way in making attendees feel welcome and included – leading to a more successful event!
Another way to keep virtual attendees engaged for smaller virtual events is to use an interactive whiteboard like Miro. This lets your viewers add their thoughts and brainstorm their ideas. This is a great way to get people involved in, say, a educational event or workshop (and it's also a way to test your attendee's knowledge to make sure they're still on track).
Livestreaming and Video Sharing
Need to reach a bigger audience than just your attendees? Do you want an on-demand recording of your event to be publicly available once it's ended?
Making your event available to the public through the internet is a great way to boost impressions, viewership and the profile of your event. That's where a livestreaming platform is great for simulcasting your virtual event.
A video sharing site is a great place to upload your virtual event recording after you're all done. It allows attendees to look back and reference something that happened, and also allows people who missed the event to check it out in their own time.
Why have we bunched together live streaming and video sharing into one category? That's because our top tool option is the same for both jobs: YouTube.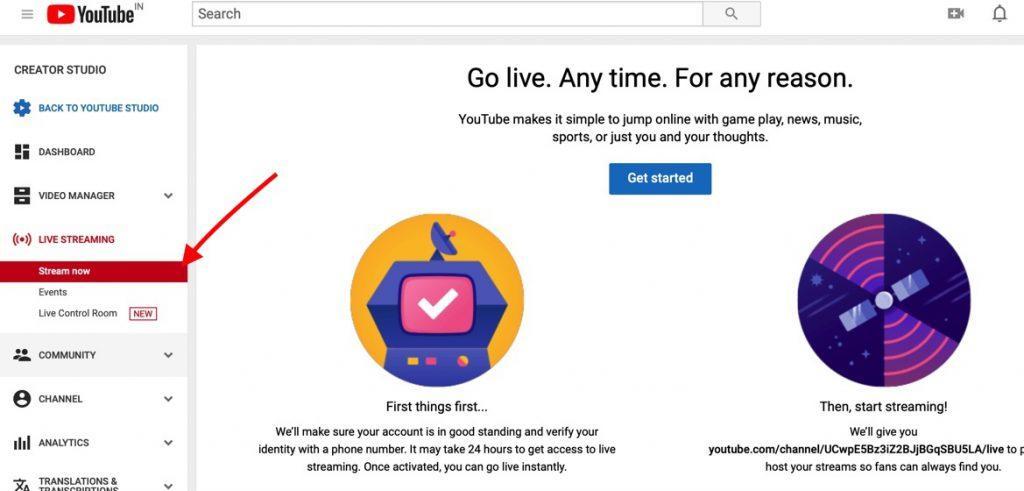 YouTube Live is a fully-featured livestreaming platform with all the discoverability features to entice new viewers to your virtual event. By livestreaming on YouTube, your viewer count possibility is endless.
Moreover, virtual event environments like Zoom now support direct livestreaming to YouTube. Then, once the event is over, you can have the entire video recording uploaded to your event's YouTube channel instantly.
Don't want your entire event up to view afterwards? You could either edit together the section you want using the YouTube Studio or edit highlights in a video editing suite and upload it as a separate video file to the site.
Pricing
Live streaming and uploading to YouTube doesn't cost anything! It's completely free. In fact, if you are a YouTube partner, you could earn some money from your virtual event videos in the form of a cut of advertising revenue.
Get planning your first virtual event today!
Virtual events will need a similar amount of planning to pull off successfully as compared to live in-person events. Sure, you won't need to worry about venue hire, security or catering. But, as there's no snazzy event hall or food to distract your guests, your speakers and event content need to be top-notch.
Therefore, rehearsing your event with your keynote speakers is crucial. With a solid timer application that can also be used on the big day, this is dead easy!
You can get started with stagetimer.io today and build your agenda for your event. It's a good idea to familiarize your production staff and speakers with all the tools you're planning on using before the event to make sure everything runs smoothly. Virtual event producers should pick their tools early, create a plan for the event and circulate that as soon as possible.
Best of luck with your next virtual event!