What is a Call Sheet? Best Practices & Examples
·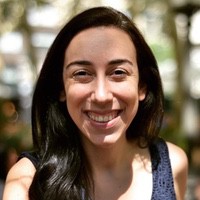 Liz Hermann
A call sheet is a document mainly used in film & TV to let actors and production staff know exactly where they need to be on any given day of a shoot. However, in recent years, there's been a resurgence of call sheets being used in live event production for conferences, summits, and seminars.
This document is especially useful for large-scale events where there are multiple stages or rooms where speakers give talks concurrently. It's also useful for speakers and production staff to have an overview of the run of show for each day of the event (for multi-day conferences, for example).
In this article, we'll explore what a call sheet is and provide you with a perfect template for you to use in your live production. Once you've created a perfect call sheet, focus then turns on optimizing your show to fit any time requirements. That's where you'll need a stage timer, and the cloud-based StageTimer.io is the best tool for the job!
What is a Call Sheet?
A live production call sheet is a document sent out by a production manager to tell speakers exactly where they need to be for a day of an event. This differs from an itinerary as this is an internal production document and shouldn't be shared with the public.
Where do call sheets come from? As we touched on before, call sheets are ubiquitous in film and TV production. They tell actors what's going to be filmed that day and who needs to be on set.
It can be argued that call sheets are even more important for live events like conferences or summits as they will be the go-to information sheet for your speakers and production staff to know exactly where they need to be and who to contact during your event.
What information does a call sheet need to include?
As you can see from the example we provided above, call sheets tend to include a lot of information. It's important you don't miss out on anything that your talent or production crew may need throughout the day.
Let's cover some essential information that you'll need to include on your live event call sheet.
Name of Show and Date
This may seem obvious, but explicitly stating both the name of the show and the date of the call sheet is extremely important. You'll need to create separate call sheets for each day of your event, so stating the date is clearly vital.
Remember that speakers are likely to have dozens of events in their calendar and will therefore have loads of call sheets. So, they'll appreciate you making it clear what event it is, so they don't pick up the wrong call sheet in a rush.
Location, or if virtual, joining link
Secondly, you'll need to tell your speakers and crew exactly where to be. We're looking for a clear address for the event venue if this is an in-person event or a joining link if it's virtual.
It's also useful to state clearly whether this event is virtual or in-person – as speakers will be used to doing both types and could easily confuse a physical conference with a virtual one. Make that clear!
Time of Arrival
It's important that everyone needed to set up the show arrives on time, and therefore you need to specify the time of arrival. You'd be surprised how many speakers assume it's fine to turn up when the show is slated to start. The most important time at the top of the document is the time you expect people to get there.
Contact Information
In case of emergencies, people getting stuck in traffic or in need of some help getting to where they need to be, it's important the stage manager is contactable throughout the day of the event.
Other useful contact information includes:
Principal First Aider
Technical Manager
Also, it's useful to include the location of the nearest hospital and the local emergency services number in case of an emergency.
Live Show Call Sheet Template
Whilst, yes, it's possible to make your own call sheet from scratch, most event producers prefer to use a pre-made call sheet template.
The difficulty there is where do you find a template that's right for you? It can be challenging to find an option that satisfies the quality and adjustability needs for your show despite the hundreds of options available online.
That's why we've created our own call sheet template for you to use completely free of charge for your next event: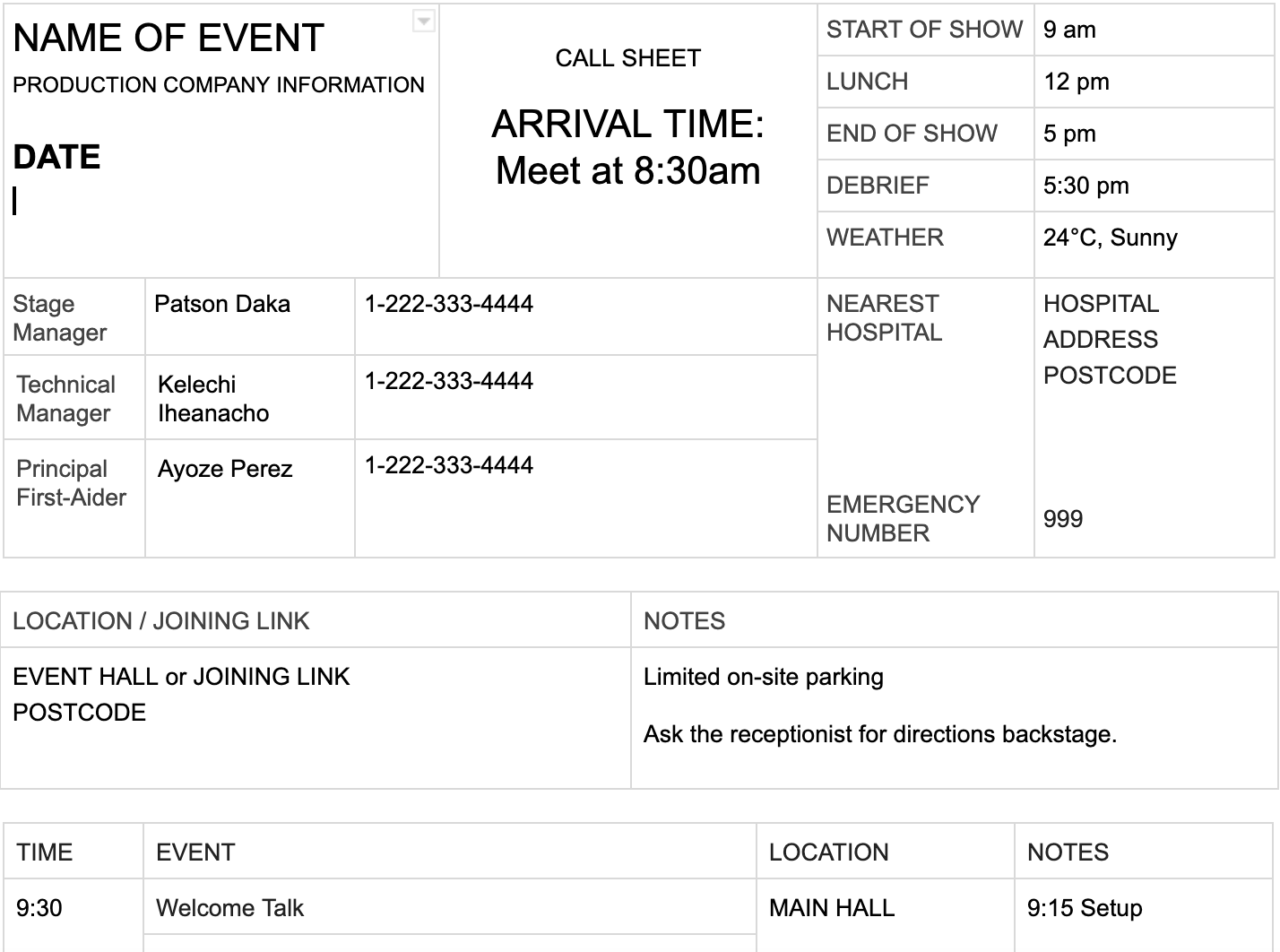 Want to check it out? We've uploaded it to Google Docs. Follow the link below to view it and make a copy to get started right away:
👉 View or download the free call sheet template
How Do You Keep Your Speakers and Production Staff On Time?
Once you've made the perfect call sheet, focus now turns on making sure speakers can keep to these timings. It may be okay for a show to be a few seconds or even a half-minute over or underrun, but overrunning by any longer can derail your entire show. A successful event is all about timing, but every aspect of it is a challenge.
That's why a stage timer is essential. Stage timers are applications that provide accurate, sharable stage clocks to event producers and speakers.
Typical stage timers are expensive to implement since they require running display feeds around the event hall to everyone who needs to know the time. Thankfully, there is a better option.
Introducing stagetimer.io, a cloud-based web stage timer designed to keep speakers on time and relay messages from producers and event staff to presenters.
How It Works
With Stagetimer.io, speakers and producers can use a shareable link to access a timer in the cloud. Anyone who needs to view or control the stage timer can access it through their web browser and connect in seconds.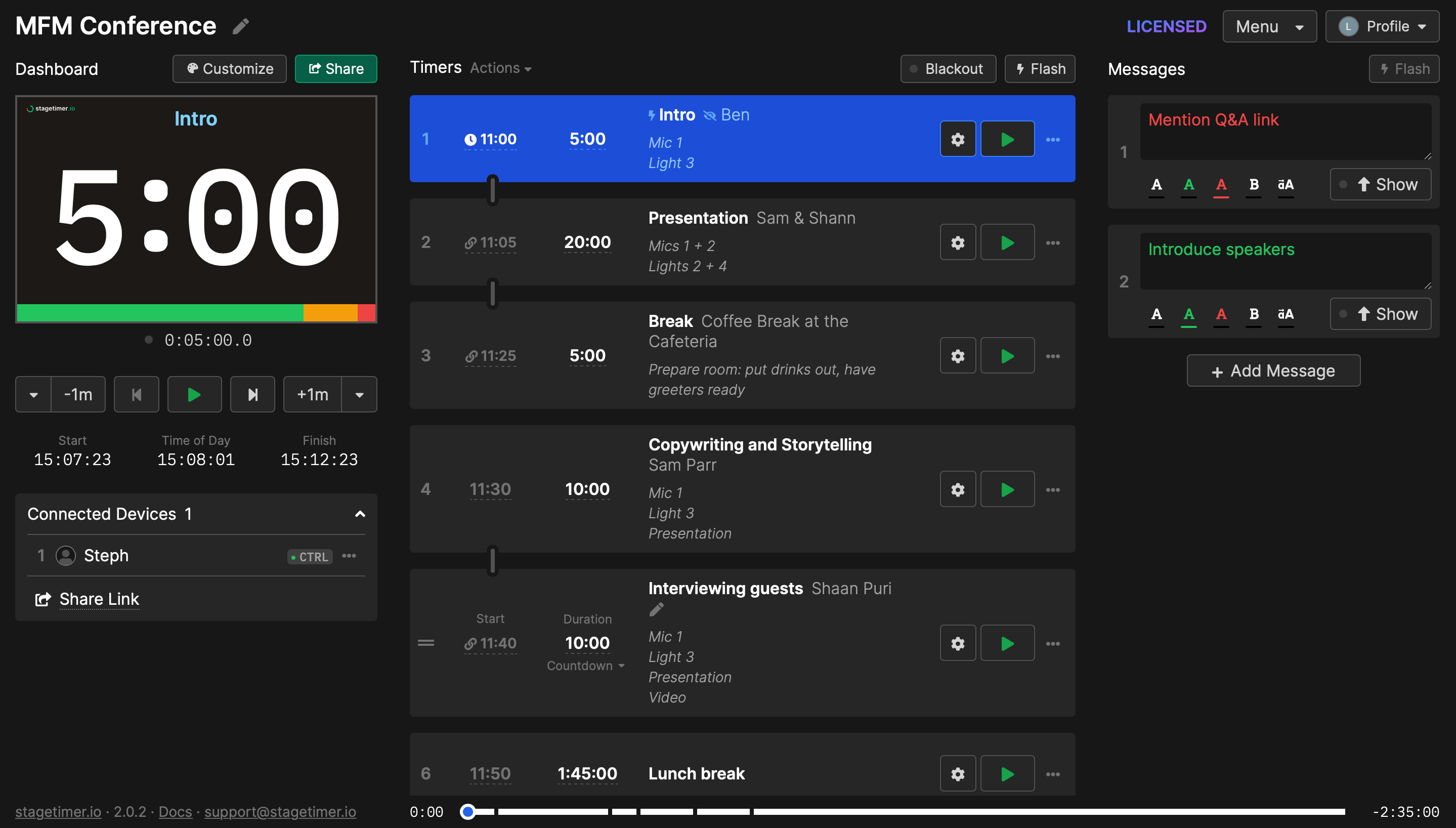 It's easy to import and digitize your run of show directly to stagetimer.io by uploading a CSV file. Once you've created your digital agenda, production staff can see an itemized cue list through stagetimer.io's "Agenda" view.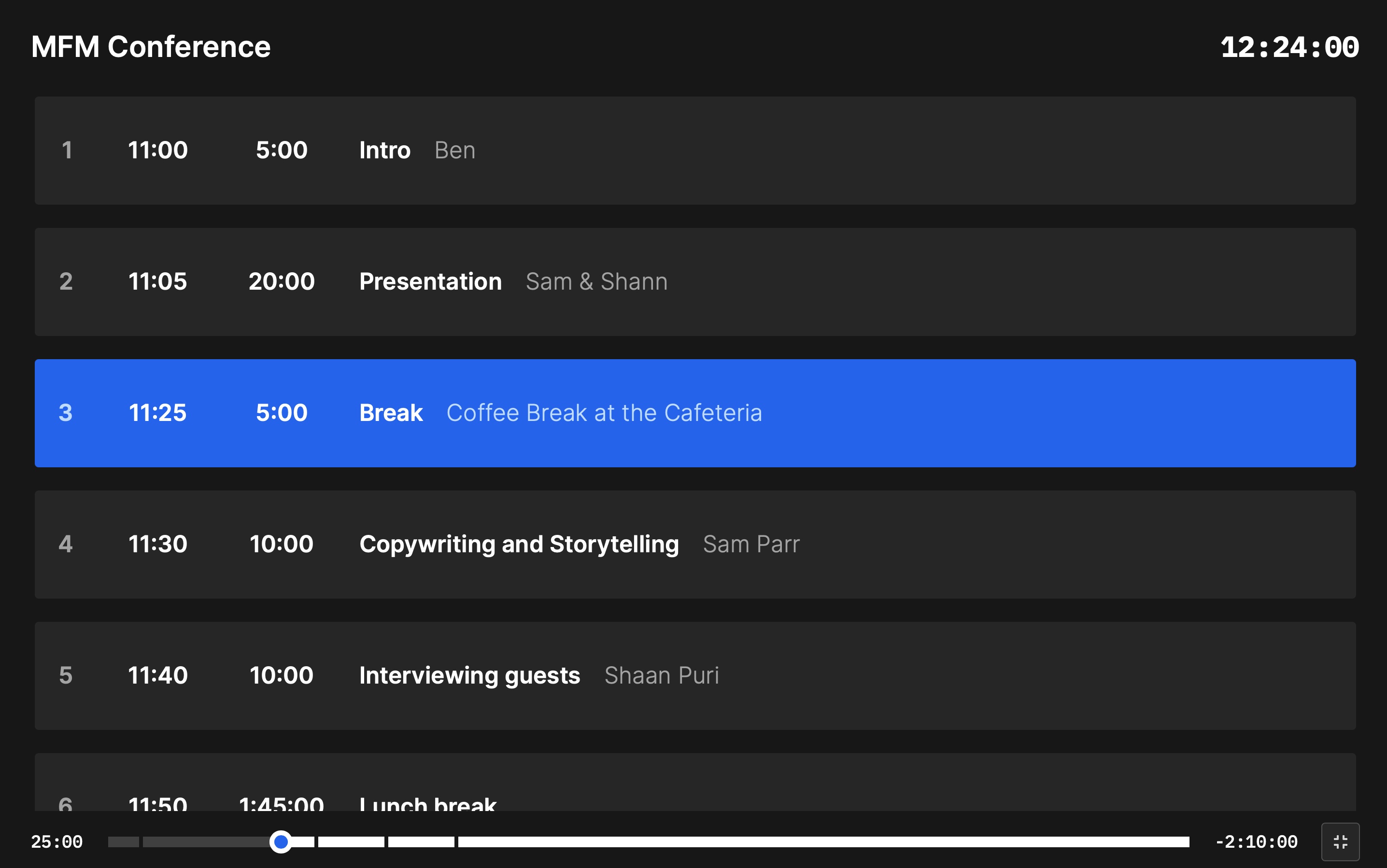 How much does this handy tool cost? The answer is really not a lot!
Stagetimer is free to get started, giving you access to up to three timers, three concurrent users and three messages. Event organizers can pay for a 10-day event-only pro package for a flat price, or opt for a Pro subscription.
Get started with stagetimer.io
A call sheet is extremely important to let your speakers know what's happening and where to be. Pairing a call sheet with an accurate stage timer that you can easily circulate to your speakers and production staff ensures your show runs smoothly and keeps to any time constraints.
You can get started with stagetimer.io and set up your agenda today. This handy tool can help you digitize your run of show with the agenda link.
Not sure whether stagetimer.io is the right tool for you? It's free to try, offering users up to three connected devices, three timers and three messages.