What is a Cue Sheet? Best Practices & Free Template
·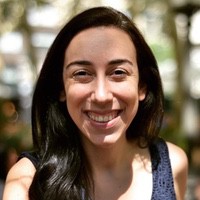 Liz Hermann
If you're holding an event, whether that's virtual or in-person, a cue sheet is an essential production document to help keep your show on track. A cue refers to a document created by stage managers to display the sequence of technical cues for a show as a whole.
In this article, we'll discuss what a cue sheet looks like, explain why you should use one, give you the best cue sheet for hosting a successful event, and discuss how you can use Stagetimer to systemize your agenda.
Why Do You Need a Cue Sheet?
Events require a great deal of planning and coordination among many different people and teams - with stage managers having to direct their production staff to execute lots of actions and moving parts.
When should the lighting change? When should a video be played? What should happen when the next speaker enters the stage? At what time should the show start?
The directions of when an action should occur are known as a cue. This is what is said or done to signify when someone from your production team needs to do something.
However, there can be dozens – if not hundreds – of cues throughout a show, directing a myriad of teams and departments. How do you keep track of all of your lighting, sound or visual cues?
What is a Cue Sheet?
There's where a cue sheet comes in. A production cue sheet is a document that shows the sequence of cues – whether that's lighting, sound or graphics – throughout a show so that AV teams can understand and follow through the event's duration.
It's sometimes also known as a run of show. Although a cue sheet often refers to a more technical document than a somewhat general run of the show.
A cue sheet is often presented as a table, with each column representing a single cue. It is for this reason cue sheets are traditionally built in a spreadsheet application like Microsoft Excel or Google Sheets.
The Perfect Cue Sheet Template
Whilst it's entirely possible to make your own cue sheet from scratch, most event producers prefer to use a pre-made show cue sheet template.
As cue sheets consist of tables, it's easy to customize the headers in a spreadsheet application to suit the categories needed for your event.
However, where can you find a template that's right for you? It can be challenging to find an option that satisfies the quality and adjustability needs for your show despite the hundreds of options available online.
That's why we've created our own cue sheet template for you to use completely free of charge for your next event:

Want to check it out? We've uploaded it to Google Sheets. Follow the link below to view it and make a copy to get started right away.
👉 View or download the free cue sheet template
Need to add any more headers or change them? Simply make a copy of the spreadsheet to your Google Drive or export it as a file. You then will be able to add more columns to the spreadsheet or change the existing headers to your liking.
Tips for selecting cues
Smartly choosing cues for each action is the key to crafting a cue sheet for a successful show run.
Cues need to be easily recognizable and distinct enough for them to not be confused with another cue.
A great type of cue is a line spoken by one of your speakers or announcers:

Can we not have absolute-time - or "static" cues? Despite their best efforts, shows may overrun or underrun their scheduled time. Even a 10-second timing error can ruin a cue's accuracy if it's only used for actions such as lighting changes or sound changes.
It is for this reason that we have dynamic cues. They are cues that are independent to the clock - and instead require technical staff to look out for a line spoken or action sighted. Remember, a cue should be a "line or sight".
How Do You Keep Your Speakers and Production Staff On Time?
It may be okay for a show to be a few seconds or even a half-minute over or underrun, but anything more can be disastrous. A successful event is all about timing, but every aspect of it is a challenge.
That's why a stage timer is essential. Stage timers are applications that provide accurate, sharable stage clocks to event producers and speakers.
Typical stage timers are expensive to implement since they require running display feeds around the event hall to everyone who needs to know the time. Thankfully, there is a better option.
Introducing stagetimer.io, a cloud-based web stage timer designed to keep speakers on time and relay messages from producers to staff and presenters.
How It Works
Using stagetimer.io, speakers and producers can use a shareable link to access a timer in the cloud. Anyone who needs to view or control the stage timer can access it through their web browser and connect in seconds.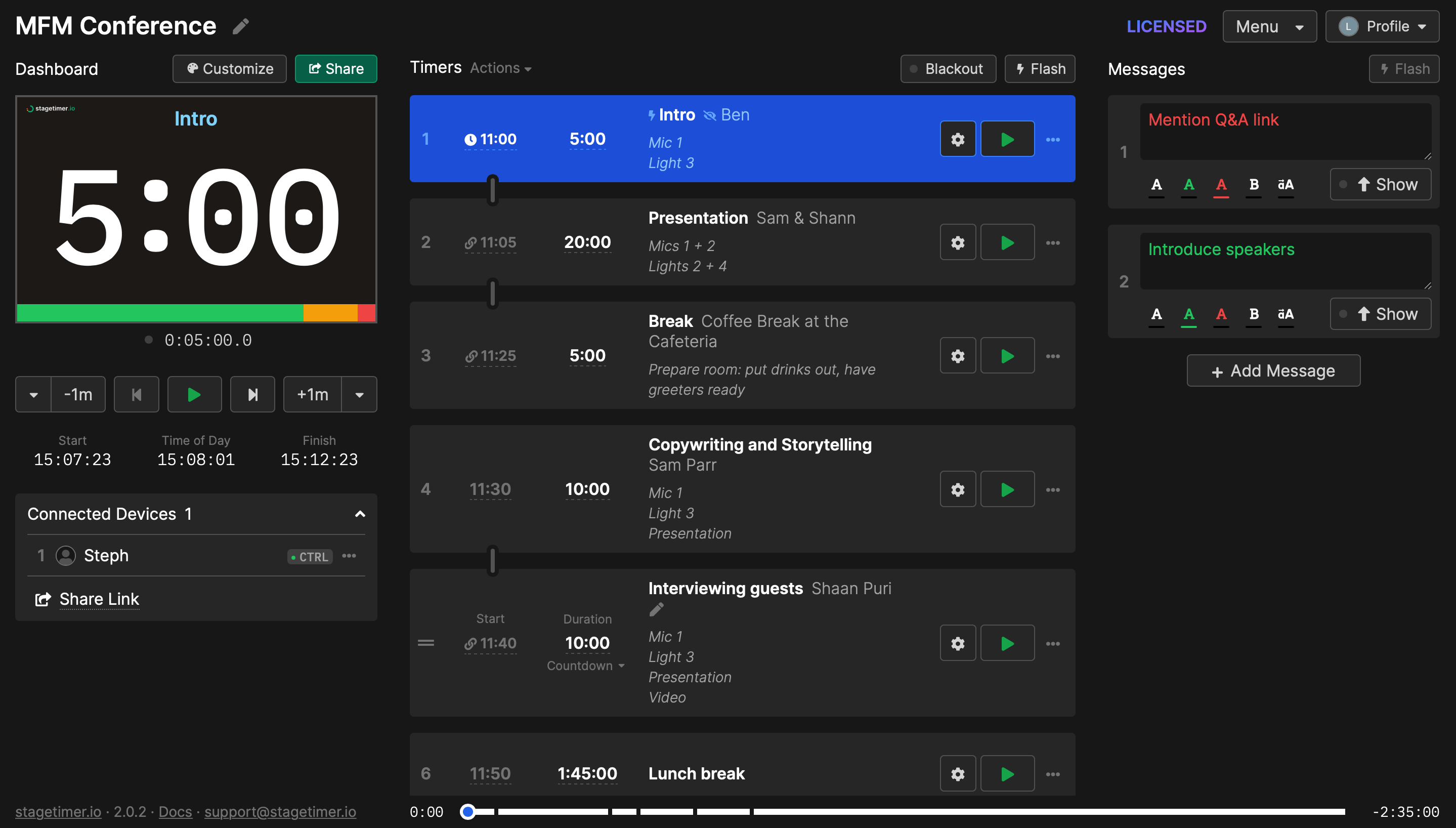 It's easy to import and digitize your cue sheet directly through stagetimer.io using its built-in agenda tool. Once you've created your digital agenda, production staff can see an itemized cue list through stagetimer.io's Agenda link.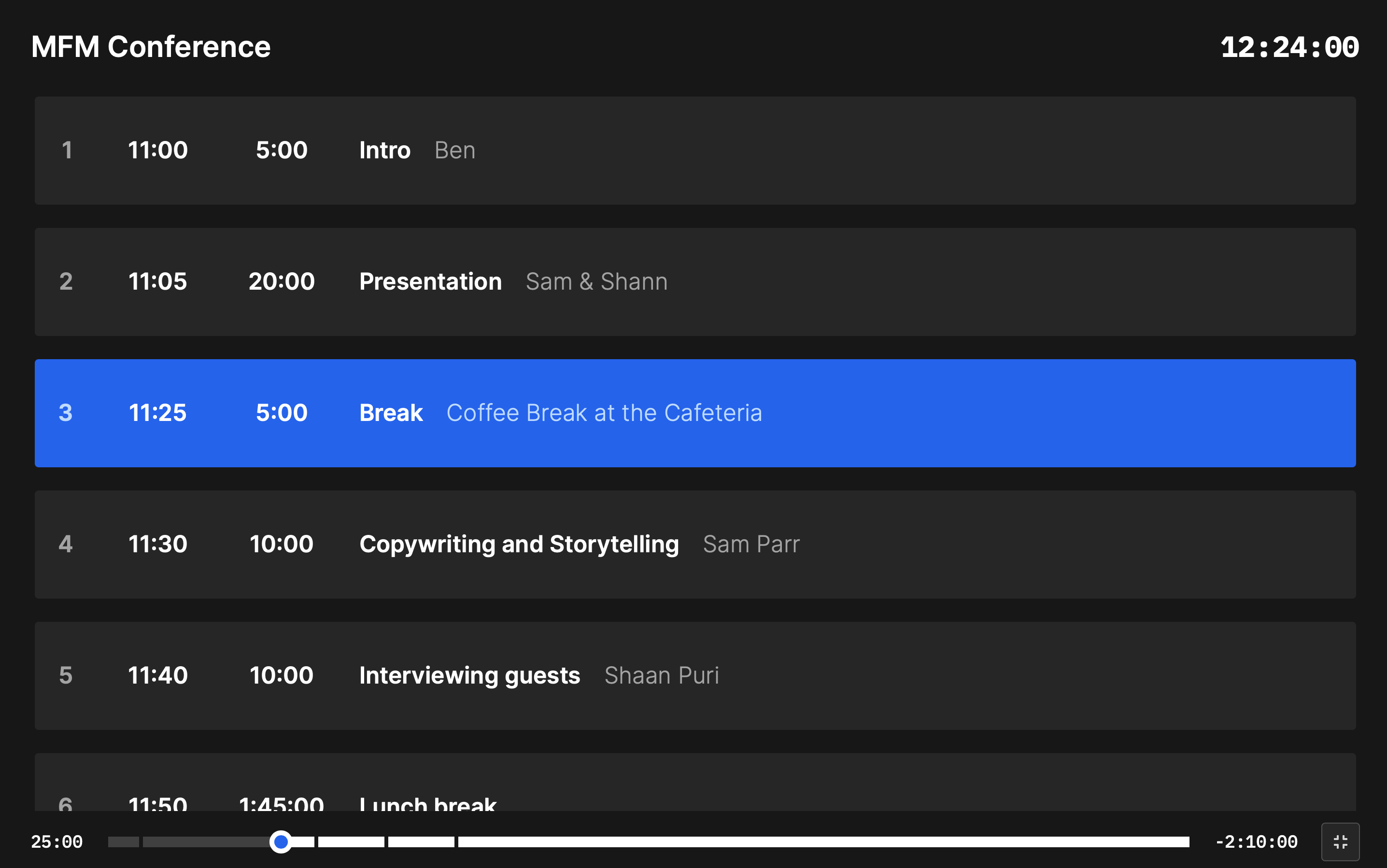 How much does this handy tool cost? The answer is really not a lot!
Stagetimer is free to get started, giving you access to up to three timers, three concurrent users and three messages. For unlimited access to rooms, timers, messages and customization you can pay for a 10-day event license for a flat price, or opt for a Pro subscription.
Top tip: Practice and run through your cues
Preparation is important for any event, online or in person. Running through your show before the big day is a good way to prepare your speakers and production staff.
Once you've created and finalized your cue sheet, it's important to make sure your whole production team is familiar with each cue.
Technical rehearsals also help out speakers immensely. During this time, it is good to check whether or not their speeches will meet the time requirements of your event.
A great way of increasing your chances of a successful show is to get your talent to use and become familiar with stagetimer.io before event day.
Get started with stagetimer.io
A cue sheet is extremely important to keeping your entire production team on track for your show. Pairing a cue sheet with an accurate stage timer that you can easily circulate to your speakers and production staff ensures your show runs smoothly and keeps to any time constraints.
You can get started with stagetimer.io and set up your agenda today. Create a timer for free and share your run of show with staff using the agenda link.
Simply enter all the actions on your run of show or import your spreadsheet to the controller page with one click, and production staff will be able to see a dynamic agenda of what's going on in their show.
Not sure whether Stagetimer is the right tool for you? Try it for free at stagetimer.io.